Eva Longoria Is Ready For A Desperate Housewives Reboot — But Will One Actually Happen?
A return to Wisteria Lane could be exactly what the TV landscape needs.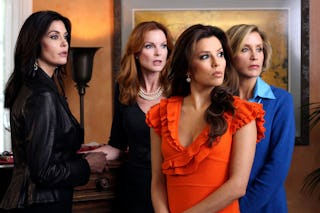 Eric McCandless/ABC
Murders, backstabbing, clandestine hookups, the sheer exhaustion of being a mom to four young kids — Desperate Housewives had it all. ABC's sudsy 2000s drama never failed to deliver twists, turns, and plenty of satire. The series came to a conclusive end in 2012 when all four of the central housewives left Wisteria Lane for good, but in a recent interview with Access Hollywood, Eva Longoria revealed she would love to see Desperate Housewives return.
"I would be the first to sign up for a reboot," Longoria said. "I miss Gaby so much. I miss being Gaby Solis."
Longoria played Gabrielle Solis, the youngest of the housewives — and the one who had the most difficult time adjusting to leading a suburban life. The show also starred Teri Hatcher as Susan Mayer, Felicity Huffman as Lynette Scavo, and Marcia Cross as Bree Van de Kamp. All four women lived on Wisteria Lane, where nothing was ever quite what it seemed behind all those perfect picket fences.
The show was a big hit for ABC when it premiered in 2004, and with Hollywood looking to capitalize on nostalgia, now would be the perfect time to bring the primetime soap back. But could a Desperate Housewives reboot actually happen?
Would series creator Marc Cherry be down for a Desperate Housewives reboot?
Despite her desire to play Gabrielle again, Longoria isn't sure Cherry is interested in returning to Wisteria Lane. "I've talked to him several times," she said. "He feels like there's no 'Why now?' For the sake of a reboot, he wouldn't do it. He feels like, 'What do I have to say with these characters that we haven't already fully mined?'"
To be fair, Desperate Housewives did cover quite a lot of ground during its eight seasons on air. By the time the show ended, the women had been involved in a hostage situation, a tornado, and multiple murder coverups.
"I come from the generation of 24 episodes a year for a decade of our lives," Longoria continued. "We fully mined those characters. There was nobody on the street that was left to sleep with. I slept with everybody. I was like, 'Uh, what do we do now?' Twenty years ago, we were saying something about ageism and saying something about being a housewife, and it was shocking. There's a lot of things we said and did that was groundbreaking, and I don't think it is now. Now it's like the norm."
Still, in a separate interview on the British chat show Lorraine, the Flamin' Hot director shared that she thinks Cherry would be open to revisiting the show with a new cast. "I think he'd do a new show on Wisteria Lane. A new set of women," she said, per Radio Times.
Have any other cast members talked about returning to Wisteria Lane?
The show's central stars have moved on to new phases in their lives and careers, making getting them all back for a reboot a tricky proposition. In February, Hatcher shared with E! News that she didn't think the show would ever return with the original cast.
"I don't think there'll be a reboot," she said. "I think it's been a long time. We had amazing fans, and I know everyone on that show is really grateful for the journey."
In a 2018 interview with Entertainment Tonight, Huffman was also skeptical about the need for the show's return. "No, there's no plans to reboot," she said at the time. "I think we used up all the narrative there is, and I think it's just going to be a cherished memory. It certainly is for me."
Is Desperate Housewives streaming anywhere?
Even though there currently aren't any plans for a Desperate Housewives reboot underway, that's no reason not to revisit the series. While not all of the storylines hold up, the overall story of female friendships enduring against all odds, plus the stellar performance by the show's stars, make it well worth revisiting. All eight seasons of the drama are currently streaming on Hulu and Prime Video's Freevee — and they make for one wild binge-watch.