The Best Reality TV Dating Shows To Tide You Over Until The Next Season Of Love Is Blind
The perfect binges for cuffing season are here.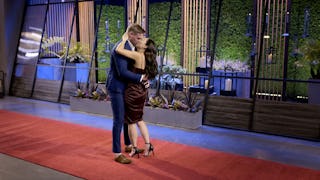 Netflix © 2022
Season 3 of Love Is Blind premiered in October, following the always spicy summer love favorite, Love Island, and it's clear that America's guilty pleasure is a good ol' drama-filled romantic competition series. Whether you're into a love that is sight unseen or are a realist that says love is blurry, it's safe to say that there are plenty of reality TV dating shows fit for any and every way you perceive the ideal fairytale.
Perhaps you're a hopeless romantic and are totally into watching people meet for the first time at the altar. Maybe you're more of a die-hard Bachelor fan and love the thrill of a catty competition. Or it may be that you don't even like competition and enjoy the simple pleasures of a matchmaking storyline that follows multiple dates instead of multiple suitors. Then there's me, who will watch literally anything that includes a happy ending and little tea in between.
Here are 15 must-see love reality competition shows that cover it all, from lust and serendipity to meltdowns and shocking plot twists.
Name a better lineup than this...I'll wait.