Watch Country Music Star Dierks Bentley Try To Keep His Cool While Bra Shopping With His Daughter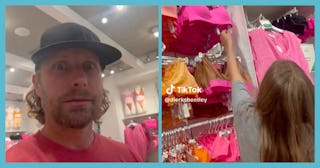 TikTok / @dierksbentley ·
Country music star Dierks Bentley gave a special glimpse into just what it means to be a "girl dad" as he documented a hilarious and awkward bra shopping trip with his daughter.
While his daughter seems to be enjoying perusing the store, Bentley often pans the camera to his panic-stricken face in one of those "How did I get here?" moments that all parents have when their kids grow up.
Bentley — who shares two daughters, Evalyn Day, 14, and Jordan Catherine, 12, as well as son, Knox, 9, with wife Cassidy Black — posted the TikTok from a "night off" from his CMA Fest hosting duties.
What better way to spend some time off than taking your daughter bra shopping?
"What are these?" Bentley's daughter asks while checking out a wall of bras, to which Bentley, 47, replied, "Uh, I believe that's a bra."
Bentley's daughter, in typical teen fashion, shoots back, "Obviously, duh."
As Bentley and his daughter continue on their browsing excursion, Bentley comes across a bra chart which outlines the different types of bras carried by the store.
"Lightly lined?" Bentley asks while looking at the chart, before being informed by his daughter that she was in search of a bra top. Duh, dad.
At one point, Bentley's daughter tells her dad that she found what she was looking for.
"See, we nailed it," Bentley says sarcastically, before his daughter corrects herself that she actually hadn't found the item.
At one point, the "Come A Little Closer" singer spots a drawer carrying lace bras and quickly turns on his protective mode.
"No, we're not doing lace," he says.
By the end of the video, Bentley concedes.
"We need your mom here," Bentley jokes. "Call Mom."
The video soon went viral — gaining 1.1 million views and hundreds of comments from fans who loved the hilariously relatable parenting moment.
"Remember on Cribs when she was barely thought of yet and you showed us her little Moses basket 😭 now we're here 😂," one user wrote, referring to Bentley's episode of the TV show, CMT Cribs, where country music celebrities give tours of their homes.
Bentley responded to the comment with a follow-up TikTok video.
"Yep, I remember Cribs. That was a long time ago. Now they're all grown up," Bentley says while panning what appears to be a green room backstage. The room is filled with women, most likely friends and Bentley's team.
"I got gals. I'm surrounded by women," he says. "Y'all want to go bra shopping? I'm an expert now."
Since having kids, bra shopping on a day off is just another example of how much Bentley's life changed once he had a family. He opened up to People in a 2016 interview, joking about how different his "rockstar" life changed after babies.
"Hangovers last longer than they used to," he quipped in the interview, also revealing he brings his brood on the road when he tours.
"We'll grab a second bus and come out, and I'll load that bus with kiddie pools and remote control cars and chalk and water balloons and rockets to shoot up in the air — everything."
Bentley's kids have also become his backup singers. In a 2022 performance, his daughters joined him on stage to a cover of a popular P!nk hit song — "All I Know So Far."
"When in doubt, bring the kids out," Bentley told the crowd.
What a sweet dad.