I Found My Actual Bra Size On Reddit, Of All Places — & You Can Too
r/ABraThatFits is the most supportive, inclusive, and affirming community on the digital block.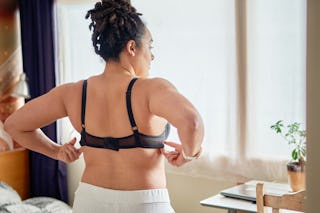 Blue Sky in My Pocket/Getty Images
I hate to be the bearer of bad news, but you're probably wearing the wrong bra size. And even if you are wearing the right size, there's a definite possibility you're not wearing a bra that fits your unique breast *shape* — and yes, that's a thing that matters, as I very recently discovered.
There's absolutely no shame here. Despite discomfort, irritation, and sometimes even pain, I dragged my heels for years. I knowingly wore the wrong size bra, all because I couldn't bear to face a fit specialist. As someone walking around wearing a 36D — and knowing that my size was likely much larger than that — I feared the awkwardness of it all, the inevitable sales pitch on something frumpy, matronly, and frilly that I felt compelled to purchase even though I hated it. So I just continued wearing my ill-fitting, itchy 36D for longer than I'd like to admit.
In a fit of frustration, I went online determined to just buy a million bras in slightly different sizes and styles, hoping for something to stick. And then I found Reddit. Turns out, there's an entire Reddit community dedicated to helping people find their perfect bra fit, and it's genuinely the most affirming and positive online community on the digital block.
Reddit to the Rescue
With a whopping 448,000 members and growing, r/ABraThatFits provides helpful and handy tools for anyone looking to discover their actual bra size — not the one a retail associate is selling you on just because they have them available in-store, which is why so many of us larger-chested ladies end up in the requisite 36D category. Along with an easy-to-follow (and incredibly accurate) bra size calculator, the platform invites members to ask questions about fit and care, providing a welcoming space for members of all sizes, shapes, genders, and identities to discuss literally anything bra-related.
This Reddit community provides an absolute wealth of knowledge that, frankly, I never knew existed but so badly needed. It made me feel empowered and actually excited to go bra shopping. At first glance, it can feel overwhelming, which is why a great starting point is the bra size calculator, a step-by-step beginner's guide to measuring your exact bra size. Everything's in UK sizing, but they make it super easy to convert to US sizing.
There's also information on trans sizing for those looking for ways to minimize their busts or those who are perhaps getting newly comfortable with a larger chest, and a guide to determining your unique breast shape. The projection and fullness of your breasts will determine the type/style of bra that will support you best — maybe a balconette bra is best for you if your chest is fuller at the bottom, but that's not the kind of info the salesperson at the mall is equipped to give you. Now you know!
Sticker shock: It's real, and it's normal.
One of the best parts of r/ABraThatFits, though, is the explanation and assurance of "sticker shock." I can attest that this happened to me when I found my actual fit. Discovering that I was actually a 36DDD put me in my feels; I'm not going to lie. But scrolling through and looking at photos of real-life people in all shapes and sizes reminded me that a D cup isn't all that big, and that my body deserves the support and comfort of a f*cking bra that fits the way it should. Seeing posts and comments from other boob-havers looking and feeling confident in their new bras gave me the confidence to find my perfect fit, too. And I'm so incredibly glad I did.
You'll also find ample shopping tips and recommendations, as well as fit check info. If you're unsure, members are encouraged to create a fit check post where other members can help determine if your fit looks right. The moderators are serious about keeping creeps and spammers away from the community, so you can be assured your bra photos aren't being used for nefarious reasons. Of course, you're encouraged to create a throwaway account and keep yourself as anonymous as possible for your own safety, and only members can see photos shared to the community.
Tips From the Pros
As you dig out the measuring tape and begin your new bra journey, a few bra fit specialists gave Scary Mommy some expert tips to make the process a bit smoother. Fashion designer Sunica Du emphasizes regular fit checks at least every two years, whether you opt for in-store fittings or prefer the DIY at-home method. "It's essential to acknowledge that our bodies change over time, and as a result, our bra size may also change. Regular fittings can help you stay in tune with your body and find the most comfortable and supportive bras."
Cultural and societal stigma might also make bra shopping feel super complicated, but you'll feel so much better buying a bra in the size and shape that truly fits you. "Many people get fixated on 'their size' and will only try on a bra that has that number written on the tag," says Jenette Goldstein, the founder and CEO of Jenette Bras. "In fact, there is so much variation from brand to brand, and even different styles from the same brand, that your best fit may vary by a band size and a cup size, or even two cup sizes, in either direction."
And yes, sister sizing is a very real thing so many of us are simply never taught, adds Laura Tempesta, the founder of Bravolution. "Most consumers don't know a 32D, 34C, 36B, and 38A all fit the same size breast," she says. "The only difference is the length of the underband. One of the biggest myths in bra sizing is that A cups are always small and D cups are always large. Some As are smaller than Ds, some are the same size as Ds, and some are larger than Ds." (Truly, who knew?)
The TL;DR of a Good Fit
Unsure if you've got the right fit and feel? No sweat, says wardrobe stylist Pilar Scratch, who offers a few basic fit tips. "You can check that the band fits snugly around your ribcage and doesn't ride up. Make sure the cups fully encase your breasts without any spillage or gaping, adjusting the straps as needed so that they provide support without digging into your shoulders or slipping down your arms. You can — and should — move around in the bra to ensure it stays in place and feels comfortable."
Above all else, comfort is key, says Tempesta. "While you are wearing a bra, if you are thinking about your breasts or thinking about the bra, you are in the wrong bra. A bra should be distraction-free. The right bra is out there, but it can take some time to find it."