Donna Kelce Becomes First NFL Mom To Have Two Sons Play Each Other In The Super Bowl
Jason and Travis Kelce's mother reacted to her boys making the Super Bowl with their respective teams, the Philadelphia Eagles and the Kansas City Chiefs.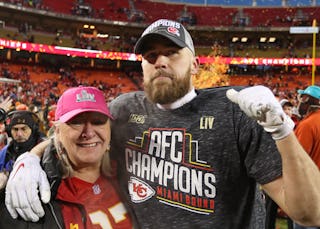 Icon Sportswire/Icon Sportswire/Getty Images
Talk about a nail biter! Donna Kelce will become the first mother to watch her sons compete against each other in a Super Bowl after Jason Kelce and Travis Kelce, and their respective teams, won the NFL"s AFC and NFC Championship games on Sunday.
Tight end Travis, 33, and the Kansas City Chiefs defeated the Cincinnati Bengals while offensive center Jason, 35, and the Philadelphia Eagles took down the San Francisco 49ers to secure their spots in Super Bowl LVII on Feb. 12.
Donna, who has been a constant cheerleader for both of her boys throughout their careers, took to Twitter on Sunday to share her reaction to future matchup.
"#HeightsHighandUCBearcatSuperBowl," she posted, in reference to her sons both attending Cleveland Heights High School before playing football at the University of Cincinnati.
She spoke to Fox 8 about a possible Travis and Jason's Super Bowl rivalry earlier this week, saying, "It's your hopes and dreams coming true, but it's your worst fears. Somebody is going to go home a loser, and neither one of them lose very well."
"Thank God they're both on offense, probably rules out any fistfights," their dad, Ed Kelce, added.
For his part, Jason joked of little brother Travis on social media, "Officially done being a Chiefs fan this season!!"
Travis and Jason will face off against each other in an historic Super Bowl at State Farm Stadium in Glendale, Arizona, as the 2022-23 season finale marks the first time both teams competing will start Black quarterbacks.
According to CNN, Patrick Mahomes, who became the third Black quarterback to win the Super Bowl in 2020, is aiming to become the first Black quarterback in history to win multiple Super Bowls, while Eagles quarterback Jalen Hurts could become the fourth Black quarterback to win the Lombardi Trophy.
And new mom Rihanna will headline the Apple Music Halftime Show, marking her first live performance in over five years.
A groundbreaking Super Bowl all around!