Edgar Allan Poe's 'Fall Of The House Of Usher' Is Gonna Be A Netflix Series, Spooky B*tches!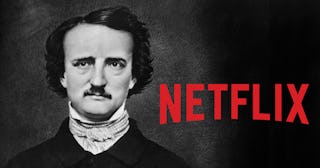 Bettmann/Getty and Netflix
Director Mike Flanagan will take on a super-spooky Poe adaptation for Netflix and we will absolutely watch it
If you are into completely scaring the crap out of yourself, it's likely that you've seen some of writer-director Mike Flanagan's work. He's had us screaming over his The Haunting anthology on Netflix, which has consisted of adaptations of The Haunting of Hill House (based on the novel by Shirley Jackson) and The Haunting of Bly Manor (based on the novella by Henry James), as well as his other Netflix projects, Midnight Mass and The Midnight Club (based on the novel by Christopher Pike).
Now, Netflix has announced that Flanagan is getting the gang back together for a retelling of one of the freakiest stories we can think of: Edgar Allan Poe's The Fall of the House of Usher.
The 1839 short story, written by the big daddy of horror, will be retold in a limited 8-episode limited series which will not only encompass the original tale but also take from other aspects of Poe's gothic body of work and universe. We assume it will center on the classic tale, in which a visitor to a very creepy mansion falls into the middle of some very creepy family drama that involves murder, secrets, and a (maybe?) dead body.
Sadly, we don't have a ton of information about the horror mini-series at this time, and it sure as heck won't be here in time for the 2021 Spooky Season, which is already upon us. We don't have any casting hints yet, let alone an official description or release date, although we do know that Flanagan and past collaborator Michael Fimognari will each direct four episodes. The only other thing we know for sure is that the project has been greenlit and is moving forward into production.
The Usher project won't be part of The Haunting anthology or any of Flanagan's previous works.
Flanagan is the perfect person for this new project. In addition to the work mentioned above, the director has written and directed a long list of feature-length horror films, including Absentia (2011), Oculus (2013), Before I Wake (2016), Gerald's Game (2017), and Doctor Sleep (2019).
Anyway: start preparing now to get totally creeped out in the future, in a way that only Flanagan and Poe could imagine.