George Clooney Asks Media To Stop Publishing Pictures Of His Children
by Erica Gerald Mason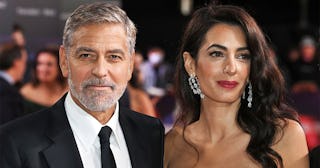 David Fisher/Shutterstock
Clooney claims that his kids are the target of celeb-chasing photogs
George Clooney has asked media outlets to stop publishing pictures of celebrities' children, saying it's a matter of their safety. Clooney wrote an open letter to the Daily Mail and other publications on Thursday, saying he was moved to write after seeing pictures of the 1-year-old son of actor Billie Lourd on the Daily Mail's website. Lourd's son Kingston is the grandson of the late actor Carrie Fisher and the great-grandson of movie legend Debbie Reynolds and singer-actor Eddie Fisher.
Clooney made headlines when, after decades of being considered one of Hollywood's most eligible bachelors, he married acclaimed barrister Amal Clooney. Since their marriage and birth of their twins, the Clooneys have worked to keep their young children out of the spotlight.
Even so, Clooney wrote that his kids are chased by photographers.
"Having just seen photos of Billie Lourd's 1 year-old baby in your publication, and the fact that you subsequently took those pictures down, we would request that you refrain from putting our children's faces in your publication," the letter begins. "I am a public figure and accept the oftentimes intrusive photos as part of the price to pay for doing my job."
Clooney then made clear that his children have not made the same choice, writing, "Our children have made no such commitment."
For those who would shrug their shoulders at the actor's request, Clooney explained why such pictures put his little ones in harm's way. "The nature of my wife's work has her confronting and putting on trial terrorist groups and we take as much precaution as we can to keep our family safe."
"We cannot protect our children if any publication puts their faces on their cover," the letter continues. "We have never sold a picture of our kids, we are not on social media and never post pictures because to do so would put their lives in jeopardy. Not paranoid jeopardy but real world issues, with real world consequences."
One Twitter user understood how the nature of Amal's work means the Clooneys need to take extra precautions for their kids.
"We hope that you would agree that the need to sell advertisement isn't greater than the need to keep innocent children from being targeted," the letter ends.
The Daily Mail has yet to respond to the letter.