Halle Berry Drinking Wine Nude On A Balcony Is The Energy To Bring This Summer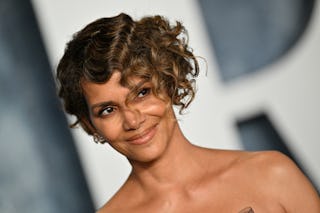 Lionel Hahn/Getty Images Entertainment/Getty Images
If you're looking for a vibe this summer, how about embracing the Halle Berry way of life? At 56, the talented (and snatched) actress and mama took to Instagram to post a truly glorious new pic. This time she's seen sipping wine on a balcony in the nude. Haters be damned. Nearly two decades since she rocked low-rise leather and a glorified bra for her role in 2006's Catwoman, it's safe to say Berry is still a total bad*ss.
Keeping things simple and direct, Berry captioned the nude picture, "I do what I wanna do" before wishing followers a happy Saturday.
Is it wisdom or wine that gives that kind of confidence and nonchalance? We'll have what she's having.
Best known for her roles in Catwoman, Monster's Ball, and X-Men, Berry is currently starring in Moonfall. In recent years, she's also become known for her killer social media presence — and this isn't her first time posting topless or nude pics. In March, she dropped some steamy bathroom mirror pics where she appeared to also be naked. "Hump day self love," she captioned those pics. But for all the perfectly posed pics she's shared, she's not afraid to share unfiltered and makeup-free pictures, either. When it comes to the 'Gram, she's basically an open book.
This latest post, though, is garnering quite the attention from her celebrity friends. The comments section is exploding with applause and approval.
"The blueprint 💫🫶🏽💫," commented Saweetie.
Jenna Dewan posted, "Wow! 👏🔥"
Of course, this is the internet, where opinions of all kinds abound. Some commenters on Instagram and Twitter tried to shame the actress. Weaponizing everything from age to motherhood, the haters tried to make Berry feel bad about the beautiful, bold post depicting her having fun in the buff.
Her hilarious response? "Did you guys know the heart of a shrimp is located in its head?" she wrote in a quote tweet.
Meanwhile, on Sunday, Berry followed up with a picture from a recent beach photoshoot. Wearing a thin, animal print robe and enjoying the breeze, she captioned that picture, "it always seems impossible until it's done 🙏🏽 Happy Easter everyone."
Looks like Berry is officially ready for "Hot Mom Summer," and, in her case, bikinis are optional. 10/10, do recommend channeling this confident vibe over the next few months — whether you're on a balcony drinking wine or handing out juice pouches at the neighborhood pool (the latter sans nudity, obvs).