Harry Styles Stopped His Entire Show To Let A Pregnant Fan Use The Bathroom
The fan also wanted Harry to help name her baby.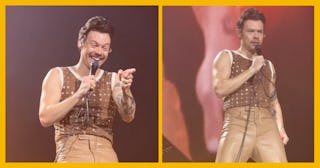 TikTok / @daydreamingnic
Harry Styles proved once again that he is a gem of a human when he went to great lengths to help out a pregnant fan at one of his recent shows.
The 29-year-old "Music For A Sushi Restaurant" singer was doing his typical crowd work during his show and chatting with a pregnant fan named Sian.
During their chat, he learned that Sian had to go to the bathroom, like most pregnant women do. So, Styles stopped his concert in Cardiff, Wales, promising to stall for Sian so she could "take a wee."
The sweet interaction was captured in a viral TikTok during Styles' Love on Tour show at Cardiff's Principality Stadium. Before stopping his set to let Sian use the loo, he was chatting with the mom-to-be about baby names.
In the video, Sian can be seen asking Styles from the crowd to help her name her baby.
"That's a lot of pressure, Sian. You don't really want me to name it?" the singer initially replied. "This could be quite fun though, couldn't it? What's it gonna be? What's it gonna be? What's it gonna be?"
Before he could answer, however, Sian confessed that she needed to use the bathroom, and Styles told her to proceed while promising to stall the show for her. "I'm going to do this for one time. If you go for a wee, I'm going to stall," he said.
"Sian, you won't miss a thing. If you hurry up, you won't miss a thing."
While Sian was taking care of her business, Styles stalled the audience by reading their homemade signs and continuing the crowd work he's known for. When Sian returned, he cheered for her and resumed their baby name conversation, where she gave him four options: Stevie, Rafe, Harley and Caleb.
The "Keep Driving" singer then asked the crowd to vote by cheering for their favorite name. The applause ultimately went to Caleb, and Styles declared that the baby's name was decided.
The video quickly went viral — gaining over 1.6 million views — with Styles' fans fawning over the sweet moment.
"He is always [so] gentle and kind with pregnant women. So sweet and understanding," one fan wrote.
"How can one person be so frickin awesome," another added.
A third TikTok user said, "THE WAY HE STALLED ALL FOR HER OUT OF THOUSSSANDSSS OF PEOPLE THIS IS THE MAN I LOVE."
This isn't the first time that Styles has shown love to his pregnant fans. In 2021, Styles helped a pregnant fan find out the sex of her baby while playing a show in Nashville.
The lucky fan caught the attention of the "Watermelon Sugar" singer by holding up a sign which read, "I'm having a baby, please make it your business," a reference to lyrics from his 2017 song, "Kiwi."
The woman she was with showed a sign asking Styles to "open these gender results."
The singer then agreed to reveal the sex results on stage. But first, he called the fan's husband and put him on speaker so he could hear the results too.
In a video uploaded by a Styles fan, the singer gleefully told Mike "We're at Bridgestone! Can you hear the crowd?" as the audience cheered, as seen in a video shared by Twitter user @edenbatesss.
"I have your baby's gender," he said. "This is all very exciting. I can assure you, this is not one of those things where you go to the theater and it actually happens every night, and it feels like it happens once every never."
When Mike asked Styles to open the envelope, the singer made light of the moment by saying, "Yeah, I'll get to it!"
After an adorable pause, Styles led the crowd in a countdown and revealed the results: "A little baby girl!"
Styles has a few more shows left to play on his current tour, and we can only hope for more adorable baby content!