Harry Styles Reveals Sex Of Pregnant Concertgoer's Baby By Lighting Up Arena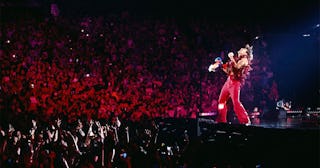 Anthony Pham/Getty
We have now reached peak sex reveal – don't try to top it, because you can't
Harry Styles has proven time and again that he'll do anything for his fans. There was the time he fed a fan's fish. The time he gave out dating advice mid-concert. And now, Styles helped a pregnant fan find out the sex of her baby in the most Harry Styles way during his recent concert at the Bridgestone Arena in Nashville.
The lucky fan was able to catch the Watermelon Sugar singer's attention by holding up a sign which read, "I'm having a baby, please make it your business," a reference to lyrics from his 2017 song, "Kiwi." The woman she was with showed a sign asking Styles to "open these gender results."
The singer then agreed to reveal the sex results on stage. But first, he made sure to call the fan's husband, Mike, and put him on speaker, to the delight of the audience.
In a video uploaded by a Styles fan, the singer gleefully told Mike "We're at Bridgestone! Can you hear the crowd?" as the audience cheered, as seen in a video shared by Twitter user @edenbatesss. "Can you hear the crowd?"
Ever the showman, Styles knew how to make the moment special. "I have your baby's gender," he said. "This is all very exciting. I can assure you, this is not one of those things where you go to the theater and it actually happens every night, and it feels like it happens once every never."
When Mike asked Styles to open the envelope, the singer made light of the moment by saying, "Yeah, I'll get to it!"
After an adorable pause, Styles led the crowd in a countdown and revealed the results: "A little baby girl!"
The stadium lit up with pink lights, and Styles fell to his be-sequined knees and cried theatrical faux tears.
"That's what I wanted … is that what you wanted?" he asked the clearly overjoyed fan.
"Goodbye, Mike," he added to her husband on the phone. "Congratulations!"
In September, Styles sent fans (otherwise known as Stylers) into a frenzy when his One Direction hit Olivia played during the preshow. Olivia, of course, might be a reference to Styles' rumored lady-friend Olivia Wilde.
According to Capital FM, concertgoers spied Wilde in the audience. "Not Olivia playing!!! I know that's right," one fan posted to Twitter. "Of course, he will make sure Olivia is still on the preshow setlist. And I think we all know why," another fan posted. "HE KNOWS WHAT HES DOING," another tweet said.
Harry Styles is winning at life, is what he's doing.