The New 'Inside Out 2' Trailer Introduces A New Emotion Into Riley's Head
Yes, the sequel is tackling puberty.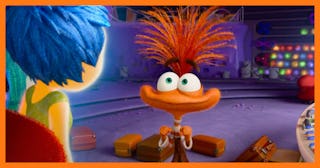 Pixar / YouTube
Inside Out 2, the sequel to the 2015 hit Pixar movie, has released its official trailer, revealing Riley's mind being turned upside down once she turns 13 years old including new emotions joining Joy, Sadness, and the rest of the gang.
The original Inside Out drew huge success at the box office, earning $858 million and winning the Oscar for Best Animated Feature.
News of a second Inside Out film was teased this past spring, and Pixar has finally given fans a sneak peek with the full-length trailer, revealing the arrival of a new emotion for Riley.
The new trailer takes us back inside Riley's mind as she becomes a teenager. Suddenly, a demolition crew (possibly new hormones?) show up at headquarters, demolishing the steady and calm space, making room for new emotions.
Joy notices that the main console that control's Riley's emotions is now orange, which leads to the introduction of a strange-looking, wide-eyed new emotion — Anxiety, voiced by Stranger Things actor Maya Hawke.
"Anxiety, might be new to the crew, but she's not really the type to take a back seat," director Kelsey Mann said per a Disney press release. "That makes a lot of sense if you think about it in terms of what goes on inside all our minds."
At the end of the trailer, here's a blink-and-you'll-miss-it moment where other emotions we may meet are listed. Among that are Envy, Embarrassment, and Ennui (aka boredom).
"Disney and Pixar's Inside Out 2 returns to the mind of newly minted teenager Riley just as headquarters is undergoing a sudden demolition to make room for something entirely unexpected: new Emotions! Joy, Sadness, Anger, Fear, and Disgust, who've long been running a successful operation by all accounts, aren't sure how to feel when Anxiety shows up. And it looks like she's not alone," the film's official synopsis reads.
Amy Poehler is back as Joy, alongside other returning cast members Phyllis Smith as Sadness, Lewis Black as Anger, and Tony Hale as Fear. Meanwhile, Hawke is joined by newcomer Liza Lapira who takes the role of Disgust after Mindy Kaling's departure from the franchise.
Inside Out 2 will debut in theaters summer 2024.