James Van Der Beek Lets His Kids Decide Their Summer Vacations
The father of six opened also up to Scary Mommy about sharing his old shows with his kids and his most nostalgic memories from childhood.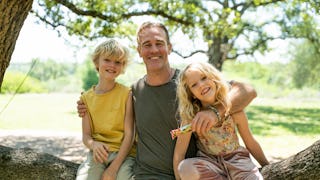 Quaker Chewy
When you picture a celebrity vacation, you might think about the most exotic and expensive places on earth: sailing among the Greek isles, a breezy resort on Turks and Caicos, hiking among the alpacas at Machu Picchu. But not James Van Der Beek and his family.
The 46-year-old actor and his sprawling family of eight are a little less Hollywood and a little more crunchy than that — and their summer plans are both less spendy and more spontaneous.
They're piling in the RV and headed whenever they feel.
"I've always wished we could be that family that plans ahead, but in my line of work, that's just not really possible," Van Der Beek told Scary Mommy in an interview over Zoom. "That's why the RV is perfect for us — it allows for spontaneity. That, and the fact that I don't have to multiply every travel expense by a factor of eight. We'll carve out a few weeks this summer and ask the kids which direction they want to head, and start driving there."
Yes, you heard that right. Since the trip is all about the kids — and all about family time together — the destination is secondary to Van Der Beek and his wife of 13 years, Kimberly Brook. It's way more about the adventure than the actual location. Therefore, the kids are — metaphorically, at least — at the wheel.
Another important aspect of the RV trips are Van Der Beek's wish to recreate the nostalgic moments of his childhood, when he remembers the best vacations as downhill skiing with his family, with no recognition that they were on the very smallest of slopes, with not the best equipment, and very few frills.
"The vacations I went on with my family, and the lasting memories I have from those, are what I want to share with my kids now," he said. "The human moments, shared laughs, adventure, connection — all of those things meant the world. Memories that are about connection with family are nostalgic no matter where it was happening. Whether it's the Grand Canyon or the garage, I hope my kids learn about the importance of that connection with each other versus where we are in the world."
The family — which consists of Olivia (12), Joshua (11), Annabel (9), Emilia (7), Gwendolyn (4) and baby Jeremiah (1) — have been living that philosophy. Three years ago, during the height of the pandemic, Van Der Beek moved his family from Hollywood to a big piece of land in Texas, where the kids can run wild and Van Der Beek can get away to simpler things, too.
Summertime on the property is about as far away from schedules and checklists as you can get; not only is it not the family's philosophy, but it's not possible with the crowd they're running with.
What has 12 years of parenting taught James about raising kids, and is he raising baby number six differently than he raised his first child?
Yes, for sure, he says.
"You have to, because they're all different," he explained. "Same ingredients. Same recipe. All wildly different personalities, tendencies, sleep patterns, emotional needs... It's wild. Plus, he's the last one and I think has somehow figured that out and is using it to his advantage daily."
At the same time he's dealing with an almost-toddler, he's also about to have a teenager, with Olivia turning 13 this fall.
Has she or the other older kiddos become old enough to watch Van Der Beek enduring teen classic, Dawson's Creek?
That's a big nope, coming from a family where the adults haven't really seen the show, either. Van Der Beek hasn't seen all the episodes, and the ones he has watched hasn't been for years. And his wife hasn't seen the show, either. He doesn't even really know if the content is age-appropriate.
"Their friends have reported watching it, but I feel like it'd be weird to watch your father at 20 years old pretending to go through adolescence," he says. "My wife and daughter watch Gilmore Girls, and my wife and son watch The Flash. In one scene of that show, apparently, my face was on a TV and they called me, freaking out and wildly impressed."
Recently, though, he did show them footage of hosting SNL back in 1999, and they were a bit less impressed. In a post on Instagram, you can hear his kids giggling wildly while the video plays.
"You look like such a nerd! You look like such a weird, stupid nerd," exclaims Josh.
Even his signature hairdo, which he hilariously refers to as "The Claw" didn't go over well with the kids. Titters abounded.
From his RV vacation plans to his family's very free range summers, Van Der Beek is very serious about play. He's determined to be present with his kids and to make their time together count.
It's why, he says, he's working with Quaker Chewy on their Take Your Child To Play campaign to encourage parents to play with their kiddos more often.
"Just like my family, Quaker Chewy understands the importance of providing play to children, as well as the significant benefits that come from the power of play. For us, playtime is good physically and emotionally, and also helps create that connection," he told us.
Sounds like Van Der Beek and fam are in for a full summer of focused fun — wherever that may be.