Jenna Ortega's Mom Calls Her Daughter Out For Smoking — On Instagram
Mom wants everyone to know how bad smoking is for everyone, not just Jenna!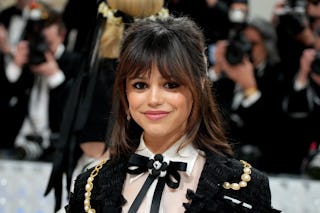 Jeff Kravitz/FilmMagic/Getty Images
Last month, Wednesday breakout star Jenna Ortega went viral after paparazzi photos of her smoking a cigarette hit the internet. With any sort of viral moment, the internet's pendulum swung from side to side, with half condemning Ortega for her habit while others just wanted her to be left alone.
And while, of course, the internet's opinion about anything means nothing in the grand scheme of tings, Ortega's mom, who also happens to be a nurse, might have some sway with the starlet.
And it looks like she's not going to sit this one out silently.
On Instagram, Natalie Ortega posted several memes and screenshots of articles, all coincidentally related to smoking.
One post contained an image of Gollum from Lord of the Rings with the caption, "Don't believe those lies about cigarettes being bad for you. I've been smoking for most my 21 years and I feel great!"
In another post she shared an article showcasing the risks of lung cancer for smokers, writing "FACTS" over the photo.
Ortega's mom also shared an article about the lasting smell of cigarettes and a meme that read, "Mother is always a mother. She never stops worrying about her children, even when they are all grown up and have children of their own."
Moms are gonna mom!
Even though Ortega is a legal adult, that doesn't mean her mom won't lend her opinion when it comes to her kid doing things she doesn't approve of. And it might not be in the most straightforward way — though there's no way to know what kind of conversations about smoking the two have had privately.
While the concerned mom's Stories are no longer available for viewing, Twitter quickly rounded them up, giving their opinion on the motherly move of tough love.
"Jenna Ortega's mom is sending shots at her own daughter about smoking via her instagram story ain't no way," said one user.
Another said, "Jenna Ortega's mom posting this on her insta story after the pics of Jenna smoking a cigarette…Latina moms r ruthless"
Jenna Ortega's mom previously went viral for mentioning her daughter on social media when she posted an Instagram post praising their professions.
In April 2023, Natalie shared a post about Jenna and her sister, who pursued a career in medicine, for their success in their careers. On Instagram, she shared two photographs side-by-side of Jenna's sister, Mia, dressed in scrubs, alongside a picture of Jenna at a red carpet event.
"2/26/23 Two of my girls wearing very different outfits and doing very different things in life. Both came from me, and both raised by me. I'm equally proud of both of them and love them very much❤️❤️ #proudmom," the caption read.
Seems that even if these two can't see eye-to-eye on everything, at the end of the day, she's a mom who has her daughter's back.