Watch A Mom Turn A Pink Nursery Into A Wednesday-Themed Big Kid Room
It all happens so fast: your sweet baby girl is suddenly a big kid who wants to be goth.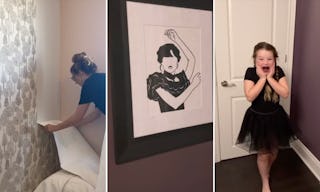 @nicole__marie / TikTok
Many expectant parents get so much joy out of decorating a nursery for their brand new little baby. Sweet pastel colors, adorable pictures, and, most importantly, zero input from the incoming child.
It's a whole new ball game when your baby grows into a kid and that kid has lots of ideas on what they want their bedroom to look like. Just take TikTok mom Nicole Marie, who created the most precious pale pink nursery only to have her baby girl grow up into a six-year-old goth-loving Wednesday fan.
Luckily for everyone, this home-decorating mom supports her child's interests and it shows loud and clear. She took her daughter's request as a challenge to update her daughter's bedroom into her kid's ideal space — even if the ideal is pretty dark and gloomy. And she shared her kid's bedroom transformation in a time-lapse video on TikTok.
"Surprising my daughter with a new Wednesday bedroom," she captioned the video, which is paired perfectly with a classical version of "Paint It Black" by Rolling Stones.
The first thing we see is mom disassembling the nursery, which consists of removing some babyish things and taking down super cute wallpaper that nonetheless had to go.
Next, mom starts painting the room a deep and dark purple while painting the furniture either a matching purple or black. Then the room starts getting its smaller details in place, which includes creamy white curtains, a black and white rug (Wednesday Addams love bold black and white patterns), and a some black and white bedding, too.
And then the final touches: a series of three artsy pictures showing Jenna Ortega as Wednesday doing her viral dance and a cute Wednesday-inspired doll in the corner.
If you want to try to recreate some of the room for your own kids (or yourself), you should know that the purple paint is Sherman-Williams Expressive Plum, the pictures are from Etsy artist @arjhang, and the doll is from Jolee James.
All in all, the entire makeover cost Nicole about $1,200 — and a pretty good amount of time and sweat.
As you might guess, Nicole's daughter was absolutely thrilled with the outcome of her Wednesday room makeover. Dressed in a black T-shirt and black tutu, with dark red lips, the little girl cannot believe her eyes during the big reveal.
And down in the comments, viewers were in love with the look, too.
"Love when parents support their children's interests," reads the top comment, which involves a black heart emoji.
"I want to show this to my daughter but i also don't want to because i know it'll end up costing me money," another wrote.
"I hope my daughter is this cool."
"I would love this room myself," another said.
A few people commented that the Wednesday Addams obsession might not last long, but it seems like Nicole is a mom who would love to re-decorate as her kid grows. And she's pretty good at it!