Jennifer Coolidge Shared The Sweetest Memory Of Her Father During Her SAG Awards Speech
She thanked her "amazing parents" for her love of film and acting.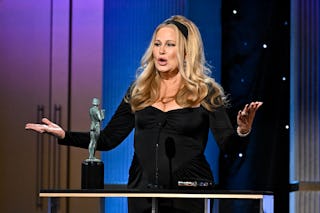 Michael Buckner/Variety/Getty Images
If Jennifer Coolidge could just keep winning awards for the rest of time, that'd be fine by me. The having-a-moment actor once again gave a hilarious and heartwarming speech at last night's SAG Awards where she picked up yet another trophy for her leading role as flighty fan-favorite Tanya McQuoid in HBO's The White Lotus.
Once on stage to accept her award for Outstanding Performance by a Female Actor in a Drama Series, she shared a sweet anecdote from when she was a young girl, thanking her parents for introducing her to her love of film.
"It's been a very special year, and it's overwhelming," Coolidge, 61, said while accepting the honor. "I am just so grateful, so grateful."
The actress then thanked her "amazing parents," specifically her father.
Before launching into what would be yet another news-worthy speech from Ms. Coolidge, she prefaced that her parents could never tell a lie — except for one time when she was in the first grade.
Coolidge shared a memory from her childhood that, she said, shaped her love of film for the rest of her life. Her father had her unexpectedly called her out from class in first grade under the pretense she needed to leave for illness. Once in the car with her dad, Coolidge explained that he had told a lie to the school.
"I got in the car with my dad," she recalled. "He said, 'I'm never going to tell a lie again, but we're going somewhere really cool.' And he drove me to the Charlie Chaplin Film Festival."
"I swear to God, seeing Charlie Chaplin for the first time and having that experience…as my love of film, as my love of actors, all of that came from my first grade."
She capped the speech with a cheeky nod to her date and friend, fellow actor Tim Bagley. "You're a wonderful date tonight," she said. "I can't wait until we get home."
This is not the first time that the Legally Blonde alum has charmed the pants off everyone in the room at an award show. The American Pie star also won her first primetime Emmy for the role in September and took home a Golden Globe last month.
After winning her first Golden Globe, Coolidge reflected on her long career in Hollywood.
"There were like five people that kept me going for 20 years with these little jobs," Coolidge said. "I didn't know anybody. It was sort of this thing that wasn't going anywhere."
"I just want you all to know that I had such big dreams and expectations as a younger person, but what happened was they get sort of fizzled by life," she said. "I thought I was going to be Queen of Monaco, even though someone else did it ... I just want to say, Mike White, you have given me hope. You have given me a new beginning."
Here's hoping that Mike White somehow finds a way to bring Coolidge back for another season (or another show) so that the world can continue to be graced by the wonder that is Jennifer Coolidge.