Jennifer Coolidge Won A Golden Globe And Had A Message For Women With Dreams "Fizzled By Life"
Coolidge won Best Supporting Actress in a television limited series for her role in 'The White Lotus.'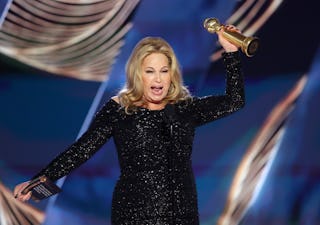 Rich Polk/NBC/NBCUniversal/Getty Images
It's official — Jennifer Coolidge is America's Sweetheart. Forget the Euphoria kids and the cast of Emily In Paris, Jennifer Coolidge has officially won the heart of the world with her hilarious candor and her message to women: keep going after your dreams.
After winning her first Golden Globe award at the 80th Annual Golden Globes on Tuesday evening for her performance in The White Lotus, Coolidge gave the most sincere and off-the-cuff acceptance speech that had everyone laughing and crying and then laughing again.
The sixty-one-year-old actor reflected on her long career in Hollywood. "There were like five people that kept me going for 20 years with these little jobs," Coolidge said. "I didn't know anybody. It was sort of this thing that wasn't going anywhere."
She then thanked those who had taken chances on her to give her roles that kept her going all these years including Ryan Murphy, Reese Witherspoon, and the American Pie franchise. "I milked those to the bone," she joked, saying she's definitely open to another film.
Finally, Coolidge thanked Mike White, creator of hit HBO Max show The White Lotus. She spoke about how when you're younger, there is so much time left to dream big and set these high goals for yourself, but then life gets in the way. Now, at sixty-one and coming off a huge hit show, Coolidge says she has restored "hope" and a "new beginning."
"I just want you all to know that I had such big dreams and expectations as a younger person, but what happened was they get sort of fizzled by life," she said. "I thought I was going to be Queen of Monaco, even though someone else did it ... I just want to say, Mike White, you have given me hope. You have given me a new beginning."
She added a joke regarding the fate of her character — heiress Tanya McQuoid — on The White Lotus and thanked White for also helping her social status.
"I was never invited to one party on my hill," she said, "but now everyone's inviting me."
The past year has been something otherworldly for Coolidge and not just because of her Golden Globe and Emmy wins. She was also named Entertainment Weekly's Entertainer of the Year. During December 2022 interview, led by pop singer Ariana Grande, Coolidge explained that it's never too late for something really awesome to unfold.
"I think of these jobs that you just can't make it through the day and stuff, and I feel like this unexpected moment that happened to me can happen to anybody, where you're going along in the car and you've been going the same speed all these years and then all of a sudden this cool thing happens. I think a lot of people think the possibility of a cool thing happening isn't in the mix anymore. And I think I'm a great example of 'What are the odds?' And this can happen to anybody."
In an industry where women of a certain age are often set aside while young women secure their roles, it's a breath of fresh air to see someone as charming and deserving as Jennifer Coolidge get a win — and I'm not just talking about her Golden Globe.