The Internet Is Freaking Out Over A Photo Of Jennifer Garner's Lookalike Daughter
Ben's genes didn't even try honestly.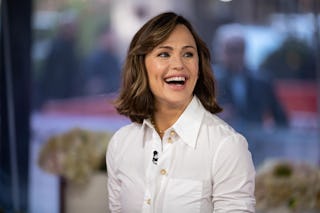 NBC/NBCUniversal/Getty Images
Y'know how ridiculous everyone gets when a new baby is born and everyone has a super-strong opinion about which parent it looks like? The baby hasn't even opened its eyes yet, but we're all convinced that they have their mom's eyes and their dad's ears.
Sure, eventually, there are some family resemblances that are undeniable here and there, but sometimes a kind will twin a parent in ways that are downright mind-blowing.
Enter: Violet Affleck.
Over the Fourth of July weekend, Affleck, 17, attended a star-studded house party in the Hamptons with her dad, Ben Affleck and her stepmom, Jennifer Lopez. Totally normal, casual stuff.
She was rubbing elbows with A-listers like Leonardo DiCaprio, Kim Kardashian, Beyoncé, and Tom Brady.
However, paparazzi shots of her attendance at the event was not what had the internet completely freaking out. Rather, no one could handle that Violet looks practically identical to her also-famous mom — Jennifer Garner.
In an Instagram video posted by party host and entrepreneur, Michael Rubin, which is filled with footage of every celebrity imaginable at the party, there is one quick shot that people swear is actually Ben and his two Jens.
The photo is actually of Affleck, Lopez, and Violet.
One Twitter user joked, "So Jennifer Garner gave birth to herself."
Another said, "If you told me this is Jennifer Garner — and not her daughter — I would have 5,000% believed you, no question."
One Twitter user actually had the best idea ever and wrote, "Imagine if they did a 13 Going on 30 sequel but it's Jennifer Garner wishing to be 20 again and the 20 y/o is played by her daughter." Please make this happen, Hollywood!
This isn't the first time that Violet has wowed the internet by looking just like her mom. When the pair stepped out to visit the White House this past December, it was the first time the teen had been in the public eye since 2018 — and people were definitely commenting on the mom/daughter twinning happening as the pair wore complimentary black gowns.
Though Violet Affleck may be a clone of her mother, that didn't stop Garner from being a helicopter parent when Violet was younger. During an interview with Allure, the Last Thing He Told Me star pointed out that her oldest daughter "didn't have a shot," joking that she was a "nightmare" to be around.
"We didn't have the eyes on us that our kids have. I was such a first-time mom. [My eldest daughter] didn't have a shot. She couldn't have a free thought — I was all over her. I was a nightmare for everyone around me," she said.
Now that Violet is a teen, Jennifer has learned to "have a lot of faith" in her. Although she doesn't "love every behavior all the time," she trusts they will come into their own in the best possible way.
"Your kids will really figure out who they are and what they are when they're older," she added, "and most likely they will hew toward lovely."
In this case, apparently, on the inside and out!