Jeremy Allen White's Ex Addison Timlin Edited An Insta Post From "Single Mom" To "Co-Parent" After Backlash
Is she *not* a single mom?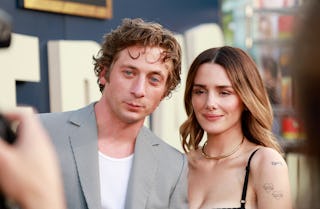 MICHAEL TRAN/AFP/Getty Images
Fans were surprised when The Bear star Jeremy Allen White and his wife Addison Timlin announced they were splitting up. The two has known each other since high school and tied the knot in 2019.
White, 32, and Timlin, 31, share two children together — Ezer, 4, and Dolores, 2.
On Monday, Timlin's lengthy Instagram caption (along with 10 photos Timlin) rustled the feathers of many when she refered to herself as a "single mom" when talking about her journey from marriage and motherhood to separation and divorce. And many people hit the comments section to tell her.
Timlin had posted on her Instagram that world of being a "single mom" was not how she pictured it.
"It is so fucking hard," she wrote.
Fans took issue in the comments, claiming that because Allen is still actively in her life as a parent, she isn't a "single mom" at all.
"There is a difference between being a single mom and being a mom that is single," commented one follower.
"Calling yourself a single mom acting like he isn't in the picture wether [sic] you guys are or aren't together is childish," wrote another.
"Even if yall r splitting u aren't a single mom? they literally have a dad? he's just busy? lmfao…. this gives me weird passive aggressive vibes," commented another.
"Single mom is a bit of a stretch, my dear. He's going to keep paying, working, and supporting those kids," another follower wrote. "You're just single and a complete overshare on social."
After receiving backlash, Timlin updated the caption and switched out the phrase "single mom" to "co-parent" without further comment.
There is some debate about the term "single parent" versus the term "co-parent."
Some people think that "single parent" just means divorced parent — anyone who is living with kids and without a partner. Others think that "single parent" only counts if the other parent is not in the picture at all — not helping with childcare, not giving financial support, not present in the kids' lives.
If Timlin cannot identify as a single mom — even though she no longer has a full-time, live-in partner by her side in her parenting journey — what is she supposed to call herself?
To make the claim that single moms with support aren't real single moms because their ex pays them child support and/or takes the kids off her hands every weekend doesn't seem totally fair.
Just because dads are now doing the bare minimum of being a "single dad," moms don't get to take any extra credit for going it alone?
A single mom should be considered any mom who is parenting without a partner — y'know single.
Despite the backlash, Timlin did have some honest and vulnerable feelings about divorce and co-parenting.
"Its not the natural order of things. It can be exhausting but more than anything it can just be so lonely," she wrote. "When something magical happens and you have to tell yourself 'Don't forget this' because there's no witness by your side. It's so painful."
She then speaks to mothers, hoping that the grace and love given to children is also reflected back.
"My hope for all mothers is that the expansive, unconditional, without fear or judgement love we offer our children can be turned towards ourselves as much as possible. We need it. Knowing what is best for you is easy if you can get quiet enough- doing what is best for you can seem impossible- but it's not. Im feeling so peaceful today and so deeply in love with my children, being a mom is the only thing I've ever wanted and being theirs is just the luckiest most remarkable thing on the planet," she continued.
Timlin then shared her gratitude for the little things in life, thanking her community for helping her adapt to her new normal as a mom.
"Doing it alone has given me more strength and more empathy and more tears than anything else in my life ever has. So thank you to everyone that has helped me in these last 9 months, the moms who picked my kid up from school in an emergency, play dates that made weekends feel a little less like climbing a small mountain, crying in my car, urgent care centers, frozen 1 and 2, and my little man JJ, Kraft mac and cheese, dry shampoo, ice cream, lollipops, goldfish, pirates booty, pull ups, crocs, soap & water, neighbors, my friends, my family, and if you turned and said to me 'I've got you' Oof. It feels good," she concluded.