Jeremy Renner Was Protecting His Nephew Before Snow Plow Accident
The actor was reportedly trying to save his grown nephew from injury when he was run over by his snow groomer.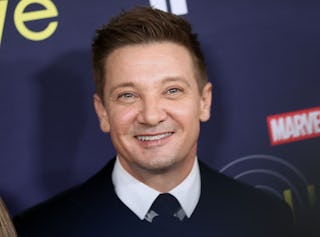 Matt Winkelmeyer/Getty Images Entertainment/Getty Images
Jeremy Renner is a real-life hero. According to a Nevada sheriff's office incident report, the Marvel star was attempting to save his grown nephew from injury when he himself was run over by a snow plow vehicle on New Year's Day.
A redacted Washoe County Sheriff's Office report released Friday states that Renner, 52, was trying to stop his snow-removal tractor from sliding and hitting his nephew when he was pulled under the Pistenbully. He was using it to get his nephew's truck out of the snow in his Reno driveway. Reportedly, the parking brake was not engaged and would have stopped the vehicle, which runs on a track, from sliding sideways.
"The Pistenbully snow groomer began sliding causing Renner to exit the vehicle without setting the emergency brake," reads the conclusion of the report, which CNN obtained. "Although the Pistenbully had some mechanical issues, it is believed based on our mechanical inspection that the parking brake would keep the Pistenbully from moving forward. When Renner attempted to stop or divert the Pistenbully to avoid injury to [his nephew], he was pulled under the vehicle by the track and run over."
The brake indicator light inside the snowplow's cab was not functioning, and "mechanical issues may have been a factor in this accident," the report notes.
Renner's nephew stayed with him until help arrived and he was airlifted to Renown Regional Medical Center, where the actor stayed for more than two weeks. He underwent at least two surgeries and was treated in the intensive care unit with more than 30 broken bones.
"I want to thank EVERYONE for their messages and thoughtfulness for my family and I …. Much love and appreciation to you all," he wrote on Instagram, posting a photo of himself in bed. "These 30 plus broken bones will mend, grow stronger, just like the love and bond with family and friends deepens . Love and blessings to you all 🙏❤️🙏."
At the hospital, Renner told investigators that he jumped out of the snowcat once he realized "it was heading directly toward [his nephew]," the report reads. "He feared the Pistenbully was going to hit [his nephew], so he decided to attempt to stop or divert the Pistenbully," but as he tried to climb into the cab, he was "immediately pulled under the left side track."
"The Pistenbully rolled over him and continued down the road," the report reads, noting that the right side of his chest collapsed and his upper torso was crushed. "He laid on the ground and focused on his breathing while [his nephew and others] rendered aid to him until medical personnel arrived on scene."
Renner — who has a 9-year-old daughter, Ava, with ex Sonni Pacheco — is best known for playing Hawkeye in the Marvel superhero franchise. He also stars in the Paramount+ crime thriller series Mayor of Kingstown, and has been nominated for two Oscars for his work in The Hurt Locker and The Town.
Praying for his speedy recovery after this scary incident.