Jeremy Renner's Mom & Sister Gave Him A 'Spa Day' In The ICU Following Accident
The 'Hawkeye' actor is in the hospital following a snow plow accident.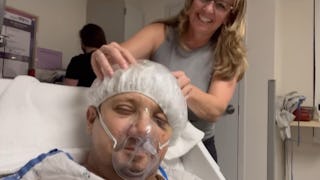 Instagram
America's favorite archer, Jeremy Renner, was rushed to the hospital and was in critical condition a few days ago after an unfortunate incident with his snow plow while clearing snow in his front yard. After two surgeries, the actor is now in stable condition, though he remains in the ICU. Renner shared on his Instagram he is on the road to recovery — and that his mother and sister giving him a spa day to cheer him up.
"ICU spa moment to lift my spirits. Thank you, mama. Thank you, sister. Thank [you] all for your love," he wrote in his Instagram stories. The video shows his sister massaging Renner's head with a shower cap on as a way to "wash" his hair. "you so sexy!" his sister said while giggling. "This is my first shower in definitely a week or so, gross!" Jeremy responded.
On New Year's Day, Renner attempted to clear out the snow on his Reno, Nevada, property post-storm, and the safety feature failed, resulting in Renner getting his leg run over and crushed by the 14,330 pound PistonBully. While chatting with a neighbor, the machine began to run. In an attempt to stop it, Jeremy tried to mount the PistonBully again, to which it is suspected he lost his bearings and was run over. While authorities do not suspect any "foul play," the machine is being investigated for possible mechanical failure.
The 51-year-old was then air-lifted to the nearest hospital and went into emergency surgery on Monday after sustaining "blunt chest trauma and orthopedic injuries," a statement given to PEOPLE shared. "Jeremy's family would like to express their gratitude to the incredible doctors and nurses looking after him, Truckee Meadows Fire and Rescue, Washoe County Sheriff, Reno City Mayor Hillary Schieve, and the Carano and Murdock families. They are also tremendously overwhelmed and appreciative of the outpouring of love and support from his fans."
Renner took to Instagram on Wednesday to confirm he was stable and recovering, writing, "Thank you for kind words. I'm too messed up now to type, but I send love to you all." The post showed a candid shot of Jeremy in a hospital bed, with injuries on his face and a breathing tube in his nose.
Sending all the positive vibes and best wishes for a speedy recovery to you, Jeremy.