Jeremy Renner's Ex-Wife Sonni Pacheco Claims He Threatened To Kill Her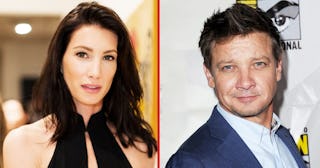 Greg Doherty/Albert L. Ortega/Getty
Sonni Pacheco says Jeremy Renner has a history of verbally abusive behavior against her
Jeremy Renner is in the midst of a heated custody battle with his ex-wife, Sonni Pacheco, over their 6-year-old daughter, Ava. While it was already contentious, the battle just escalated and now, Renner is facing some very serious allegations. In new court documents, Pacheco claims that Renner talked about killing her and put a gun in his own mouth on the same night.
According to TMZ, new court documents say that Pacheco claimed Renner was under the influence of alcohol and cocaine at a nightclub in November when he allegedly told someone he "could not deal" with his wife anymore and just "wanted her gone." Pacheco alleges that the same night, he put a gun in his mouth and threatened to kill her. Then, she says he fired the gun into the ceiling and that it all happened while his daughter was sleeping.
Pacheco is not the only one who heard Renner's threats, according to the documents. A nanny reportedly overheard him threaten to kill his wife and himself, as well. She says she heard him say that it would be better for his daughter to have no parents "than to have [Sonni] as a mother."
It's definitely a serious and frightening matter, but Pacheco says it's not the first time Renner's behavior behind closed doors has been a major cause for concern. She says these kinds of frightening situations are not totally out of character for the actor and that he has a history of verbal abuse against her, as well as struggles with drugs and alcohol. She even claims he once left cocaine out in plain sight in the bathroom where his daughter could reach it.
Of course, these are court allegations that haven't been proven, and Renner is already fighting back. But Pacheco seems to be taking it all extremely seriously. She's seeking sole custody of their daughter with only monitored visitation from the Avengers actor.
Renner's representative told Us Weekly, "The well-being of his daughter Ava has always been and continues to be the primary focus for Jeremy. This is a matter for the court to decide. It's important to note the dramatizations made in Sonni's declaration are a one-sided account made with a specific goal in mind."
Pacheco filed for divorce from Renner in 2014 after only 10 months of marriage. The divorce was finalized that December.
It's always sad when we hear unsettling things like this about stars we've admired onscreen. Hopefully, the courts will thoroughly examine all the evidence in the case and make the best ruling to ensure the health and safety of the entire family.