Jessie J Confirmed The Father Of Her Son In Touching Instagram Tribute
The singer recently gave birth to the couple's first child.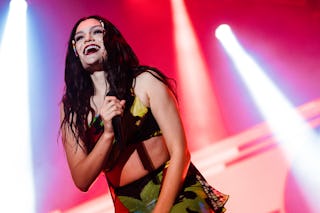 Mauricio Santana/Getty Images Entertainment/Getty Images
British singer Jessie J revealed the father of her newborn son in a touching tribute on social media. The 35-year-old "Pricetag" singer gushed over her partner and new baby's father in a now-expired Instagram Story.
"I struggle to keep things private," she wrote in text-overlay on a photo of boyfriend Chanan Safir Colman holding her hand during birth.
"I think if you know me, you know that. I want to protect people I love and keep it for myself."
She continued, "And then so often I think f**k it because life is short and don't want to regret it. Once you open the door, you can't close it."
The singer — whose real name is Jessica Ellen Cornish — went on to reveal that she met Colman, 39, only a few weeks after suffering a miscarriage in 2021.
"Like a beam of light," she said in the post, Colman "lit up" her "dark days."
"It was a whirlwind love and a miracle that we fell pregnant naturally with not one issue during," Jesssie J added, noting that "grateful doesn't cut it."
The singer also shared that Colman has "given me many of the best gifts of my life," and that he didn't let go of her hand during the birth of her son.
"I wouldn't have been able to go through it without him," she added, calling him "the calm to my crazy", "the peace to my fear" and, finally the dropping the bomb and writing, "the Daddy to my baby."
The "Party In The U.S.A" songwriter welcomed her son into the world in May 2023.
"A week ago, my whole life changed," she wrote on her Instagram Story. "My son entered this world and my heart grew twice the size. The feeling is indescribable. I am flying in love."
She later revealed that he was delivered through an unplanned C-section despite her birth plans hoping for a natural, unmedicated birth.
"I spent 9 months prepping for a natural birth," Jessie J wrote on Instagram, detailing how she followed a strict health regimen in hopes of delivering her first-born in "a pool birth side ideally with no medication."
"I had a scan at a few days off of 40 weeks, and he was completely the wrong way around and stuck as he was a little chunkier than your average and long," she said in the post.
"I did everything to try and turn him for 2 months, but he said 'Nah mum I wanna make an entrance out the roof, not the front door.'"
The singer shared that she wanted to tell her birth story to help other moms who have have felt disappointment that their birthing experience didn't go exactly the way they wanted to. "So many people have said, 'Do you feel like you missed out on the birth you wanted?'"
"It was everything I wanted because I got him at the end of it," she responded to the question. "That's all that matters."