'The Bold Type' Star Katie Stevens Opens Up About Postpartum Depression & Anxiety
"No one told me about where you just don't recognize yourself."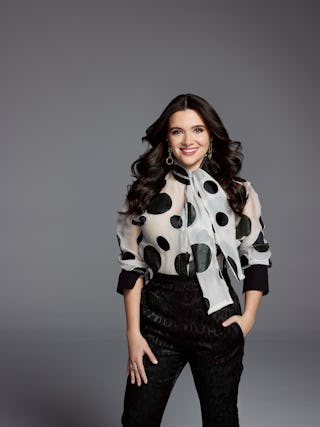 Nino Munoz/Disney General Entertainment Content/Getty Images
Throughout history, women have felt huge amounts of pressure to look like the perfect mom who has everything together from day one. This includes "bouncing back" after birth, taking all the perfect pictures, and looking like the ideal picture of motherhood. In recent years, though, celebrity moms have been speaking up about how enormously hard motherhood is, especially those early postpartum days, especially if postpartum depression and anxiety are involved.
The latest celebrity mom to open up about the struggles of new motherhood is Katie Stevens. The 30-year-old actor and singer married rocker Paul DiGiovanni in 2019 and the couple welcomed their first child, a girl named Rome, in February.
And now, with a 7-month-old, she is sharing her experience with PPD and PPA with the world in hopes that her story can help. The Bold Type actor and American Idol participant uploaded several videos to her Instagram Stories on Monday talking candidly about her experience as a mom so far.
"As most of you know, I just had a baby in February, and postpartum time is wild," she started, while going through her skincare routine. "If any of you have listened to the episode of the Hold My Hair? podcast that I did, I talked a little bit about how I struggled with some postpartum depression."
"I feel like people don't talk about it enough. It looks different for everyone," she went on. "For me, my anxiety got way worse. I was just overwhelmed all the time. And I personally have a severe allergy to asking for help, so I didn't want to do that."
She also discussed a part of PDD that doesn't get talked often enough about.
"Also a layer of my postpartum which I feel women don't talk about, because they harbor some guilt around it, is just not recognizing myself," she continued. "Obviously, my role as a mother is one of the best jobs I've ever had in my entire life, but you go through a period that no one told me about where you just don't recognize yourself."
Another part of her depression was letting go of her old life, and mourning who she was before she became a mom.
"When you have a baby, as soon as the baby is born you're also born as a mother and there are things that you gain and things that you lose," she explained. "For me, obviously, your independence and getting to do whatever you want. And now I have my daughter who I think of before everything now and I wouldn't change that for the world, but I definitely had to go through a grieving process of my old life."
The changes are both mental and physical.
"You change so much and your body has changed so much, your brain can't catch up with the speed at which you've changed."
While she didn't mention any medical treatments, she did say that her friends and family have been helping her through.
"I had many nights where I was having panic attacks and sleepless nights because of it and I'm very lucky that I have a wonderful partner, I have wonderful family and friends that really rallied around me and helped me through that," she said. "I still have my down days, but everybody told me, it gets better and there will be days that the sun shines more. That's definitely been true for me."
She then shifted gears to talk about the pressure of bouncing back paired with the struggle that is simply staying healthy and fit and eating well while in charge of an infant, and how her physical body's changes compounds the other changes in your life post-baby.
"I feel like that always gets a lot of comments from people being like, 'You just grew a baby, of course your body's not the same.' All things I know," she continued. "And I'm so grateful for what my body did. My body gave me the best thing I'll ever have, which is my daughter. And I'm so grateful to my body for going through pregnancy and keeping me healthy and sustaining my daughter's life. But I definitely have been struggling with my motivation and my desire to work out and to just feel good again."
While her heart is in the right place — working out to get strong and healthy — the struggle is real when it comes to finding the time and motivation to even eat a square meal or move your body.
"I'm not trying to 'bounce back,' she explained, "I know everyone says they're not trying to bounce back but really I haven't given myself any sort of, 'By this point I want to be back to my pre-baby weight.' I don't even know if I'll ever get there. I just want to feel strong and for my back not to hurt. And I want to be healthy again, because I also just haven't been eating well or taking care of myself in that department because my focus has been on my daughter, and to be the best mom I can be I also have to be the best version of myself."
After she asked for tips and advice at the end of her video, she was showered with support from her fans, who shared their own stories and their best hacks for surviving that first year. Here's to moms speaking out about the challenges of postpartum life and PPD — talking about it openly means getting help.