Lady Gaga Writes Emotional Post About The Importance Of Befriending 'Elders'
She says her relationship with Tony Bennett "gave us each something neither of us had with most people."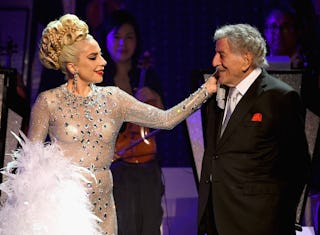 Kevin Mazur/Getty Images Entertainment/Getty Images
When Tony Bennett died on July 21, the world mourned a legendary singer and performer who had been wowing crowds for over 70 years. But as singer Lady Gaga shared on Instagram this week, she also lost a close friend.
In a touching post, the 37-year-old songwriter shared a glimpse into her relationship with the entertainer — not only talking personally about her feelings, but also sending an important message to the world about our "elders." In the post she insisted that we need to connect with them, learn from them, and then care for them even when the end-of-life era can be so hard.
"I will miss my friend forever. I will miss singing with him, recording with him, talking with him, being on stage together," she began the post. "With Tony, I got to live my life in a time warp. Tony & I had this magical power. We transported ourselves to another era, modernized the music together, & gave it all new life as a singing duo."
Bennett died earlier this month at the age of 96, after a battle with Alzheimer's. His career, which began in the early 1950s, changed the music industry and brought jazz into the mainstream. And he, apparently, also made some fast friends along the way.
"But it wasn't an act. Our relationship was very real. Sure he taught me about music, about showbiz life, but he also showed me how to keep my spirits high and my head screwed on straight. 'Straight ahead,' he'd say," Gaga shared.
Lady Gaga and Bennett met in 2011 and have had a close friendship since, both on stage and off. They immediately began to collaborate, with Bennett comparing the singer to his all-time favorite, Ella Fitzgerald. While she introduced his music to a younger generation, he helped her weather tough spots in her career with his wisdom and advice. "He saved my life," she told Parade in 2014.
In the post, Gaga shared how painful it was to lose her friend to Alzheimer's — but that losing him was worth what they added to each other's lives.
"I've been grieving the loss of Tony for a long time. We had a very long and powerful goodbye," she said. "Though there were 5 decades between us, he was my friend. My real true friend. Our age difference didn't matter — in fact, it gave us each something neither of us had with most people. We were from two different stages in life entirely — inspired. Losing Tony to Alzheimer's has been painful but it was also really beautiful. An era of memory loss is such a sacred time in a persons life. There's such a feeling of vulnerability and a desire to preserve dignity. All I wanted was for Tony to remember how much I loved him and how grateful I was to have him in my life. But, as that faded slowly I knew deep down he was sharing with me the most vulnerable moment in his life that he could--being willing to sing with me when his nature was changing so deeply. I'll never forget this experience. I'll never forget Tony Bennett."
She ended by emphasizing how important "elders" and elder care is in our lives, and how the relationships we have with seniors are worth the pain that inevitably comes when their health fails.
"If I could say anything to the world about this I would say don't discount your elders, don't leave them behind when things change," she wrote. "Don't flinch when you feel sad, just keep going straight ahead, sadness is part of it. Take care of your elders and I promise you will learn something special. Maybe even magical."
Lady Gaga has brought the world a lot of wonderful music and social change, but it's insights like this that make her a really special celebrity to watch.