A Live-Action 'Hercules' Movie Is Happening & The Internet Is Creating A Dream Cast
Danny DeVito reprising his role, please!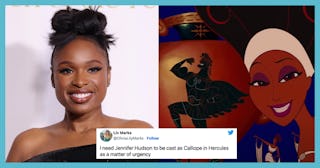 Taylor Hill/Getty Images Entertainment/Getty Images, Disney
Hercules loyalists, it's our time! One of the best and most totally, completely, underrated class 90s Disney films is finally getting the moment it has always deserved.
Not only does Hercules have arguably the best soundtrack of any other classic Disney film ("Zero To Hero" on repeat all day!), but the 1997 animated film is one of the more critically acclaimed of the bunch.
While speaking with the New York Times, Sean Bailey, president of Walt Disney Pictures, recently revealed that a live-action remake Hercules is currently in development in addition to a few other exciting projects like Hocus Pocus 3 and a live-action Moana.
After the news circulated that, in due time, everyone will have the great pleasure of viewing a live version of someone performing "I Won't Say I'm In Love," Twitter and the rest of the internet launched into their dream casting.
From Jennifer Hudson to Danni DeVito, there are so many possibilities (some a little out there, some that totally make sense) for who could make up the cast of the live-action Hercules.
When it comes to one of the best parts in the entire Hercules universe, The Muses, people definitely have some opinions.
"Muses first Hercules: 1. Lizzo 2. Janelle Monáe 3. Beyoncé 4. Megan Thee Stallion 5. Keke Palmer Disney you have the money, you have the resources, make it work," one Twitter user wrote.
Another user wrote, "I need Jennifer Hudson to be cast as Calliope in Hercules as a matter of urgency."
Another fan suggested that singer Jazmine Sullivan and former Glee cast member Amber Riley could play a couple of the Muse roles as well.
Several others called for Lizzo to get in the mix. Lizzo herself actually reacted to fans begging Disney to cast her as the muse, Thalia, in a TikTok. However, Lizzo feels she's more of a Terpsichore.
When it comes to Hercules' right hand man and guide, Phil, the general consensus is that Danny DeVito has to reprise the role since he voiced the character over 20 years ago.
"if danny devito isn't phil we will jan 6 disney world," one user joked. Count me in.
As for what actor could play Hades, there is some debate. A couple people have suggested that Steve Buscemi could pull off a great villain (Fargo, anyone?). Others wondered if William DeFoe would be available for the role.
One of the more interesting (and honestly, intriguing!) predictions called for Jennifer Coolidge to play the role of Hades, which would be complete perfection.
For the role of Hercules' love interest, Meg, fans hope that Ariana Grande will be available. They even both rock an amazing high ponytail.
Another Twitter user hoped that Elizabeth Gillies, a former Nickelodeon child star, would play the pat of Meg.
Lastly, for the role of Hercules, people have mixed feelings and the ideas for who could play the Greek God are all over the place. One suggestion was for Dwayne "The Rock" Johnson to play Herc, but he might have aged out of the role, TBH.
Someone else joked that Canadian actor Jared Keeso "is the only living human with the correct Jaw-to-Neck ratio to play Hercules."
Another fan asked if Taron Egerton could be the right actor for the part.
Regardless of whichever actors end up playing which characters, there is no doubt that the excitement is buzzing about the Hercules live-action movie, and every millennial who has a VCR growing up cannot wait to see it.