Pissed Off LuLaRoe Retailers Are Leaving 1-Star Reviews For 'LuLaRich'
by Valerie Williams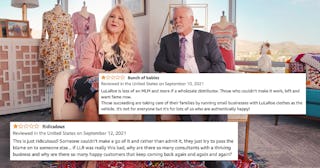 Amazon and Amazon Prime Video/Youtube
Current LuLaRoe retailers are taking to Amazon to leave 1-star reviews for the super popular "LuLaRich" docuseries
Amazon Prime Video's explosive documentary LuLaRich seems to have ruffled the feathers of some faithful retailers who have stuck by the "buttery soft" leggings purveyor throughout their well-publicized struggles. The Amazon reviews for LuLaRich, which exposed the seamy underbelly of infamous MLM company LuLaRoe, now tell the story of angry retailers who insist the company isn't at fault for the misfortune experienced by so many of their former reps, as detailed by the docuseries.
First, a little background. Directors Jenner Furst and Julia Willoughby Nason took viewers along on a journey from the company's very beginning, interviewing founders DeAnne and Mark Stidham, to its semi downfall with their fast growth leading to serious quality and supply chain issues, which in turn, screwed over retailers stuck with "dead fart leggings" and other unsaleables.
The four-part series featured a number of former reps for the company telling their tales of losing thousands of dollars in their quest to become a girl boss — and worse. These people telling their stories seems to have triggered current reps who are sticking 1-star reviews on Amazon to fight back against the more incendiary claims in the docuseries. It honestly can't be more obvious that the low reviews are probably almost all from current retailers as the rest of the reviews are nearly all 5-star — there's literally almost nothing in between.
There's also the fact that Variety is reporting about a Facebook group for LuLaRoe retailers where one post read, "If anyone wants to give it a one star review to bring down the ratings …" along with a link to where they can leave reviews. Variety says according to screenshots, that retailer did as promised and slammed the series and the former consultants who were interviewed for it.
They're definitely not happy, y'all.
Plenty of other 1-star reviews don't mention being a retailer but go out of their way to call the series "boring" and "one-sided." Not sure how exciting a docuseries would be featuring supposedly happy LuLa reps, and we hear plenty from them in our Facebook feeds anyway, so it makes sense that the series would focus on those burned by the company's tactics.
Former LuLaRoe retailer Roberta Blevins, who was featured in the series, read some of the 1-star reviews aloud on TikTok before pointing out that "50 percent of the company made less than $5,000 in the year." She says, "Numbers don't lie, BooBoo."
They sure don't and while some LuLa retailers might insist they're doing just fine, the former reps featured in the series clearly represent the other side of the story. The number of 5-star reviews speak for themselves.
This article was originally published on