Macklemore Asked His 7-Year-Old Daughter To Direct His Music Video And Everyone Is Crying
Sloane will direct her dad's music video for his latest single, "No Bad Days."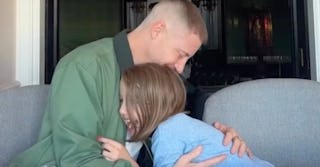 TikTok / @macklemore
I bet you didn't have "Crying About Macklemore" on your Tuesday morning Bingo Card, but here we are!
Macklemore — whose real name is Ben Haggerty — shared the most heartwarming video on social media where he asks his 7-year-old daughter, Sloane Ava Simone, a very important question about an upcoming music project.
"I'm a little bit nervous asking this, if I'm being honest," he said during a sit down with his kid. "You know how the other day you were doing like the Bogey Boys, like producing?"
Bogey Boys is a golf and lifestyle brand created by Macklemore.
"You knew exactly what you wanted. I was so impressed with your work ethic, with your eye. I love your visual aesthetic. I absolutely love your style," the "Thrift Shop" rapper continued. "I've been trying to think of a music video for 'No Bad Days.'"
The rapper, 39, then gears up to the pop the big question he has for his budding creative artist.
"Crazy idea, and if you don't like it we don't have to do it," he says to Sloane, keeping the whole plan low pressure. "'No Bad Days' music video, I need a director."
Sloane then covers her mouth in shock and excitement, knowing where this conversation is going.
"And I was thinking, what if you directed the music video?" he asks Sloane.
Sloane nods excitedly, wiping a tear from her eye before springing off of her chair forward into her dad's arms as she hugs him.
"Is that a yes?" he asks with tears in his eyes.
"It's a yes!" Sloane squeals.
The two share another hug before Sloane turns her face to the camera and says, "Action!" in her best director voice.
"This one is gonna be special… Directed by Sloane ❤️," the "Downtown" rapper wrote in the caption of the video.
Macklemore also has two other children with his wife, Tricia Davis — Colette Koala, 4, and Hugo Jack, 1.
Down in the comments, everyone was moved by Macklemore's confidence in his daughter as well as their budding creative partnership.
"I was not ready for this," one viewer wrote. "My heart just exploded."
"You are an amazing father," another said, "Can't wait to see her directing debut!"
This is not the first time that Macklemore has been inspired by his eldest daughter when it comes to his music.
When Sloane was just a few months old, Macklemore released a slow, reflective ode called "Growing Up (Sloane's Song)" where the once-wild rapper dispenses sage life advice to his young daughter with the chorus sung by UK pop singer Ed Sheeran.
In a statement about the song, Macklemore wrote at the time, "When you try to escape yourself, life has an interesting way of creating situations that force you to come back. To look at who you are. This is why 'Growing Up' felt like the right song to re-emerge with."
"There is nothing like the joy and happiness that comes from bringing a baby into this universe. She has filled my heart in ways that I never knew were possible. She is the love of my life. This song is for her," he continued.
Macklemore's upcoming album — BEN — will be released the same day at Sloane's directorial debut: March 3.