Madonna Says It's Hard For Her 6 Kids To Have Her As A Mom
The pop icon admits that being a superstar while raising kids made parenting that much harder.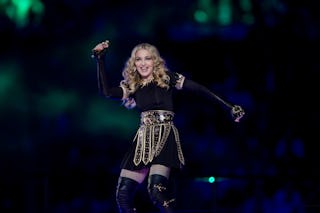 Tom Hauck/Getty Images Sport/Getty Images
There is basically entire generations who feel they were raised by Madonna, so it might be surprising to consider that her real-life children may not have loved having a celebrity mom. In the newest issue of Vanity Fair, for their Spanish, French, and Italian editions, Madonna is featured on the cover of the "icon issue," and she's getting candid about motherhood.
The 64-year-old opened up about parenting, saying that it's "been the most difficult, the hardest battle" to raise her six children, Lourdes, 26, Rocco, 22, David, 17, Mercy, 16, and twins Estere and Stella, 10. "It was perhaps the most complicated clown performance to bear. Even today, I struggle to understand how to be a mother and do my job. Because, whatever happens, whoever you are, having children and raising children is a work of art. And no one gives you a manual. You have to learn from your mistakes. It is a job that takes a lot of time. And it's tiring because there's never rest," the icon said.
She admitted that from her perspective, growing up with a "mother like her" was a "challenge" for her kids.
When asked what her 40-year career in the industry cost her, she shared, "How do I quantify it? I could answer: several billions. But then: in what currency? How to quantify the risks incurred? And the artistic path? I devoted all my time, all my energy to fighting and working for things that most people didn't even imagine or could hardly believe. How much did it cost me? Absence of rest, renunciation of security, end of all relaxation, goodbye to a comfortable life, lack of sleep, zero peace of mind, inability to spend time with the people I love. Yet this was the journey I had to make. Yet this was the cost I decided to pay."
However, she does admit that her biggest victory is seeing who her children have become. "To have my children go as far as they have come. It's the biggest medal," she said. "The thing that makes me happiest is to see how each of them has found their creativity. I never encouraged my daughter Lola to make music or my son Rocco to paint. But I have always exposed them to art, to music. I am happy with how they are today. And I'm proud of their work."
While Madonna has prided herself on being creatively driven as an artist, it's not her work that brings her the most happiness — it's her family. She shared, "[I love] spending time with my children. And seeing them happy, watching them grow, watching them evolve, and then finding the things they love. Much of my happiness comes from my children. And a lot more from the inspiration that some artists give me."
So was it all worth it? The 'Material Girl' singer proclaims that if she could do it all over again, she wouldn't change a thing, except, "I would treat myself to more food. And maybe an extra pair of shoes."