Mae Whitman Credits Her Healthy Childhood To Having A 'Gentle Dad'
She says she had a good experience as a child actor because of her parents.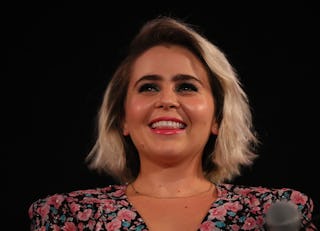 JB Lacroix/Getty Images Entertainment/Getty Images
Being a successful child actor and having a happy childhood don't often go together, as we've seen from stars like Drew Barrymore, Daniel Radcliffe, and Jennette McCurdy. The industry is filled with parents trying to live through their kids, parents pushing their kids too far, and parents profiting from their kids.
But every once in a while, parents get it right and their kid has a good experience growing up in Hollywood. One of those people is 34-year-old Mae Whitman, who found fame at the young age of six when she was cast in the film When A Man Loves A Woman, and who went on to snag roles in some of the most memorable shows of the last few decades, including Arrested Development, Parenthood, and Good Girls.
This week, Whitman opened up to podcast network Dear Media about why she was lucky enough to navigate child stardom without falling victim to any of the pitfalls experienced by most kids who grow up in TV or movies.
"I hate to give them all the credit, but it's my parents," she responded immediately when questioned on the topic. "They ruled. They were so cautious and they were so meticulous about prioritizing and walking me through what was important in life. What not to take personally. Our family was so communication-based."
In particular, she said that her dad's parenting style made a huge difference in her life.
"I grew up with a gentle dad — it's a term I've coined with people," she said. "A gentle dad is like a sensitive dad. There was no teasing in my house. There was no meanness. There was no 'you need to make us proud.' It was an open source of communication and sensitivity and consideration."
An example of "gentle dad" parenting?
Whitman shared how she hated sleepovers growing up and could never make it though the night. No matter how many times she tried, she always wanted to go home — and her gentle dad was not only happy to pick her up, but developed a code word with her so that she could ask to go home without any shame or embarrassment.
"I would call my dad completely casual," she explained, "and be like, 'It's awesome I'm having the best time I've ever had. But quick question: did you feed the turtle?'"
That was his signal to put on his slippers and find the keys.
In the comments to both videos, viewers loved the idea of gentle dad parenting, whether or not they experienced it growing up.
"If everyone had a gentle dad, the world would be a better place," one wrote.
"My dad was a gentle dad and I miss him everyday," said another.
"I grew up with a gentle dad, and married a man who is a gentle dad. It's the biggest flex a man can have," one shared.
Others could only wish for gentle dad support.
"Gentle dad is the opposite of 'when you grow up with an angry man in your house, there will always be an angry man in your house,'" one person wrote.
"So… do we get those on Amazon, or…?" another wanted to know.
"Where was the sign up sheet? Cuz I missed it," one added.
Just more evidence that having a sensitive dad instead of an authoritarian can result in some pretty awesome kids (who find success as adults) even if they grow up in stressful environment.