Megan Fox Claps Back At Accusation That She Forces Her Son To Wear "Girl Clothes"
She says she supports all her children's fashion choices.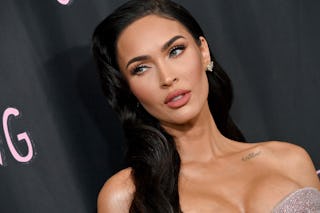 Axelle/Bauer-Griffin/FilmMagic/Getty Images
Megan Fox can take the comments about her appearance, her marriage, and her on-again, off-again romance with Machine Gun Kelly, but when it comes to comments about her choices as a mom — she's going to clap back.
Earlier this week, the Jennifer's Body actor posted a screenshot of a tweet from a conservative right-wing political figure who said he allegedly saw two of her children "have a full on breakdown" saying their mother forced them to wear girls clothes. They allegedly lived in the same gated community at one point.
"It's pure child abuse," the tweet says. "Pray for them."
Unsurprisingly, Fox — who shares three sons, Noah, 10, Bodhi, 9, and Journey, 6, with ex husband Brian Austin Green — did not take this kind of accusation lying down.
"i really don't want to give you this attention because clearly youre a clout chaser but let me teach you something…irregardless of how desperate you may become at any given time to acquire wealth, power, success, or fame — never use children as leverage or social currency," she wrote on Instagram. "especially under malevolent and erroneous pretense."
"exploiting my child's gender identity to gain attention in your political campaign has put you on the wrong side of the universe i have been burned at the stake by insecure, narcissistic, impotent little men like you many times and yet i'm still here you f*cked with the wrong witch."
After Fox absolutely eviscerated this guy on social media, Fox was still blasted in her comment section from hundreds of people petrified of the thought of a boy wearing a pink shirt and having long hair.
Despite the hate she received for standing up for herself and her kids, there were some messages of support for the New Girl alum.
"these comments are so fucking ridiculous. who tf cares what her kids wear? whether her kids are trans or not is not up to anyone else to decide but them. y'all always want to talk about influence when it aligns with your argument but ignore it when queer people talk about being closeted for as long as they were because they didn't know it was okay being that way," one user wrote.
"clothes are clothes. if y'all want to debate about puberty blockers/hrt go somewhere else. but clothes don't make gender. if that were the case, a lot more people would think of me as being a cos male since i only shop in the men's section. get a f*cking life and leave hers alone. (also, y'all always wanna yell out abuse but then turn around and applaud parents for slapping them on the bare ass when they do something wrong, get a f*cking life.)"
Another echoed, "As a female, I wore boys clothes all the time and was referred to as a 'Tom boy.' No one accused my parents of child abuse because it was MY choice. And my fashion choices changed many times throughout my youth. Fashion helped me understand gender identity, not confuse it. Keep being an amazing mother and supporting your children in what matters to them Megan IRREGARDLESS of the trolls and politicians ignorance."
After Fox's post went viral, Green came to his ex-wife's defense and said that this claims made by said clout chaser are totally untrue.
"It's a totally bogus story." he told TMZ. "There are only a few people in their world that can actually verify whether or not a story like this is true and I can tell you with absolute certainty it is not."
"This person trying to claim this is true is a perfect example of someone with selfish motives," he continued, "that does not care about negatively affecting a parent-child relationship."
He also called the right-wing politician, who made the claims about Fox, "full of sh*t" and said he has "no idea who he is."
How hard is it not to comment on a kid's clothes, or not to judge a parent's harmless decisions?