17 Magical Mermaid Books For Kids Who Need A Little "Vitamin Sea"
Beach vibes all day, every day, please.
by Amber Guetebier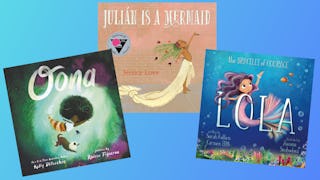 Amazon
We may receive a portion of sales if you purchase a product through a link in this article.
With the release of a reimagined The Little Mermaid from Disney, you're not alone if you've been singing a lot more while splashing around in your kiddie pool. To be fair, though, there are many of us who always have mermaids on our minds. With several new mermaid titles coming out over the last few months, I took a deep dive into the world of mermaid books — and am happy to report that the Barbie-in-fins version of our youth has had a major upgrade.
Today's mermaid mains are diverse and more enchanting than ever. From Afro-Carribean folklore to the merrow of Irish legend, celebrate your love of a good "tail" with this collection of picture books and chapter books that feature mermaids.