'Bachelor In Paradise' Michael Allio Shares The Sweetest Proud Dad Moment
The reality star shares a parenting win with his six-year-old son James and reminds us all that, at the end of the day, having a happy kid is all that matters.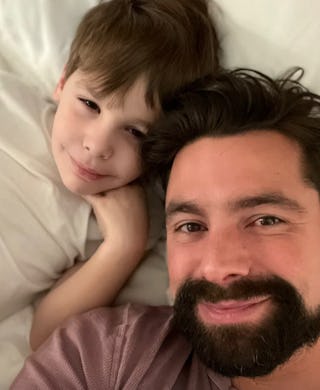 Instagram
While we enjoy the humor in parenting fails, nothing is more gratifying than a parenting win. Bachelor In Paradise star Michael Allio shared a story on his Instagram today of a moment he had with his son, James, 6, and reflected on his journey as a single dad — and what it means for him to see he's doing at least some things right.
"I have a proud parent moment I wanted to share with you," he began. "For the last couple weeks, I have been taking James to a tutor to help him with reading and everything like that, and I think as parents, we're so inundated with ensuring that our kids are meeting these metrics, you know, reading, writing, math, all of those things, that we lose sight of some very important things."
He explained, "I was reminded of this when the teacher pulled me aside and said, 'I gotta tell you. James is one of the happiest, kindest children I've ever met,' and I think as parents, that's really what our job is," he continued. "I was really proud to hear that. I believe that to be true, but it's great when other parents notice it as well."
It's hard in this generation not to get lost in the sauce — I love this reminder from a dad's perspective.
"It's not easy, but allow kids to be kids, allow them to be happy," he concluded. "Allow some of that burden that we put on ourselves to be lifted, and just raise happy, kind kids."
Allio is no stranger to grief and adversity. He became a fan favorite after appearing on season 17 of The Bachelorette, where he was transparent about his struggles as a widowed father after the passing of his wife, Laura, in 2019 after a two-year battle with breast cancer. While Michael had found a connection with the season's bachelorette, Kate, Michael ultimately decided to leave the competition after receiving a call from his son, who wanted him to come home.
"I always go back to that day when I had to say bye to Katie. It's not something I wanted to do but as a parent, [it was an] easy decision. I would do it a million times again, just like I did there without thinking twice," he told US Weekly in 2021. "How do I pursue that happiness? And a lot of times — and I've spoken with a lot of widowers and single parents — they're scared to do that. I understand it, like, a million times over because I still feel it. You give a little bit of time; it takes from something else."
Allio decided to take a second chance at love by appearing on the latest season of Bachelor In Paradise, where he unexpectedly found love with Danielle, who shared a common experience with Michael: she had lost her fiancé.
"We share a tragic past that we will carry with us forever but one that will never define us. As we look into our rearview with a smile and anxiously await what lies ahead, I now know for certain, I'm glad to be walking down this road less traveled with you," he wrote on his Instagram.
Big Kudos to Michael for facing so many challenges and still raising a truly happy kid at the end of it all.