Michelle Obama Opens Up About Being The Tall Girl Growing Up
The former First Lady talked to Conan O'Brien about the challenges of towering above her classmates in school.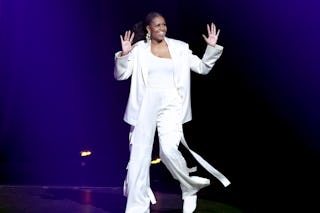 Amy Sussman/Getty Images Entertainment/Getty Images
Did you know that at 5'11" Michelle Obama is tied with Eleanor Roosevelt and Melania Trump for the tallest first lady in history? But while she has embraced her height, found confidence, and stepped into her power as an adult, it wasn't always that way.
On the latest episode of The Light Podcast, the activist, author, and speaker sat down with funnyman Conan O'Brien to talk about the feeling of being othered — and how you can get to a point of understanding that you're enough just the way you are.
And the two — who might not at first look like they have much in common — bonded over the challenges of being the tallest kid in the class (Conan is 6'4").
"No matter how young or how old we are, there's probably something that leaves us feeling out of place," Obama said at the top of the show. "Maybe it's the color of our skin, or the shape of our nose. Maybe it's the accent we speak with or the way we worship. Maybe you're a strong-willed Black girl who towers above her classmates, like me when I was in high school. Or maybe you're a gangly fire engine red haired jokester with unique dance moves."
O'Brien shared that he was surprised with how much he identified with Obama as he was reading her book The Light We Carry, especially when she talked about being othered by her height while growing up in Chicago.
Michelle shared that because she grew up in a Black community, the first time she experienced othering was not related to her race, but to her height.
"I was the tall girl... That whole thing, you grow up, nothing fits you. Clothes weren't made for you. I spent my life tugging on my pants sleeve," she said. "My mom made my clothes. It was just like, 'Oh lord, please let's not go to the Butterwick section.' She's say, 'I can make that!' and I just want to go to the department store and get the jeans with the tag with the Gloria Vanderbilt label. I just desperately wanted to be like the girls I saw, the peppy cheerleaders."
Conan shared his own struggles with how he looked as a teen, and there were some parallels.
"I never had pants that fit me," he said. "When I was a kid growing up, I had bright orange hair and my mother would cut it in a bowl. I hated having freckles. I hated having orange hair. I'd see people on TV and say, 'That's how I'm supposed to look like, not like this."
Michelle went on to discuss how representation is so important because most everyone feels othered in some way in their lives growing up.
"We don't see our ourselves reflected anywhere, and I hear from young people who talk about feeling invisible because they don't see signs of themselves anywhere in the world," she said. "So many of us are living in a world where we feel othered. That's why it's so important for us to tell our stories."
This isn't the first time Michelle has talked candidly about her height.
Last year, in a piece she wrote for British Vogue, she explained how left out she felt and how much she wanted to be different.
"'Tall' became the label that got attached to me first, and it stuck with me right through," she wrote. "It was not something I could shake, not something I could hide about myself."
"By the time I got to high school, I felt a degree of envy for the kids who could easily blend into a crowd... I was aware of it nearly all the time. I was straight-up jealous of the smaller girls, the ones whose body size didn't seem to factor into how they bought their clothes or whether any boy would think twice before asking them to dance," she continued.
As she grew into an adult, though, she learned to evolve her differences into strengths.
"I learnt that I could attach better feelings to my differentness," she explained. "It was helpful to do when entering a new space, a kind of psychological squaring of the shoulders. I could take a second to remind myself of what, inside the walls of my own home, inside the shelter of my friendships, I already knew to be true. My validation came from inside. And it helped to be able to carry that power into a new room."
"I'm tall and that's a good thing."