Kids Need Us To Really See Them, Michelle Obama Reminds Parents In Her New Audible Podcast
This is something we could all stand to hear.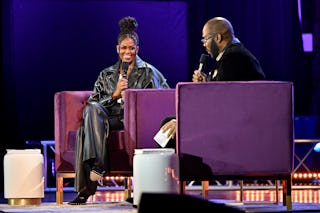 Derek White/Getty Images Entertainment/Getty Images
If you're anything like me, you're still pretty bummed you missed the opportunity to see Michelle Obama on her six-city U.S. book tour last winter — in which case you'll be happy, like I was, to hear that the inspiring conversations she had during that tour are now available for everyone to listen to as part of the new Audible Original, Michelle Obama: The Light Podcast. Going beyond the book, the podcast follows the former First Lady as she explores important issues and insights with some of her famous friends. Among them? Tyler Perry, whom Obama speaks to in Week 2 of the podcast about how vital it is for all of us to make the kids in our lives feel seen.
In an exclusive audio excerpt from the second episode shared with Scary Mommy by Audible, Obama describes when she first felt seen in her life.
"My parents not just loved me, but they liked us. They liked to hear our thoughts. They liked to talk to us. In our little bitty house with no money, we did a lotta talkin'," she told Perry. "That was the first place that I was seen, and that's really the foundation of a child's self-confidence — being seen at their own kitchen table."
In further proof Obama is the mom friend we all need, she reminds everyone that you don't need much to make kids feel seen in that way: "I just urge people, as we deal with children in our lives — whether ours or anybody else's — to remember the imprint we can have on them... how powerful it is for kids to be seen by us. Just see them. Not who you want them to be, but just see them."
As a parent, I need to hear that. I need the gentle nudge not to try to make my kids be a miniature version of myself, but to see them for who they are and who they are growing to be. As the former First Lady puts it, "From the minute they're born, they start telling you who they are."
Obama explains that when she was First Lady, you'd see her speaking with and surrounded by kids so often because she saw it as an opportunity to send an unequivocal message to them. She shares, "I would just want to tell them, 'I see you, you are beautiful, I am glad for you. I am glad you are here.' We have to do that. All of us have a responsibility to do that for the kids in our lives."
Listen to Scary Mommy's exclusive audio excerpt from the second episode below:
You can listen to the full conversation between Obama and Perry on Tuesday, March 14, when the second episode of Michelle Obama: The Light Podcast airs. The podcast — the first original project in the newly formed exclusive, worldwide, multi-year first-look production deal between Audible and Higher Ground — will be released weekly, with each of the eight episodes exclusively on Audible for two weeks, then available widely wherever podcasts are found.
The first episode, a conversation with Hoda Kotb about helping children find their light, is available now. Other inspiring conversations you can expect are sit-downs with Oprah Winfrey, Ellen DeGeneres, and more.