Milo Ventimiglia Fights Back Tears Sharing That His Dad Was The Inspiration For Jack On 'This Is Us'
"I see in Jack the way my father was with my sisters and I, just wonderful," he shared.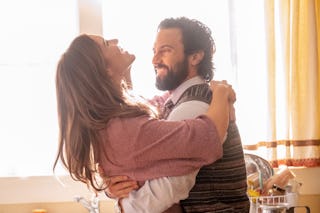 NBC/NBCUniversal/Getty Images
This Is Us fans are no stranger to drooling over Milo Ventimiglia's portrayal of "super dad" Jack Pearson on the former ABC drama. The combination of a great dad who is also easy on the eyes is something that viewers (including me) have missed since the show ended in 2022.
Lucky for us, the former Gilmore Girls star is on the promotional train, talking up his new leading role on the new ABC series — The Company You Keep. And he's still thinking about his time on This Is Us, too.
Ventimiglia stopped by The View and opened up to the hosts about what it meant to play Jack Pearson and the true inspiration behind the iconic role — his own dad, Peter Ventimiglia.
"My dad is wonderful… my mom and dad… I get emotional," he said as he got choked up speaking on the topic. "My mom and dad are wonderful people. My father and Jack Pearson were of the same era, both born in the 40s, both Vietnam vets."
Ventimiglia, 45, had to take a beat a few times during the interview to collect his emotions when he discussed the impact his parents — especially his dad — had on his portrayal of Jack Pearson.
"It always happens," he noted, alluding to his wave of emotion.
He continued, "I see in Jack the way my father was with my sisters and I, just wonderful. So thank you."
He then shares that during his time working on This Is Us, he kept a childhood photo of himself and his dad nearby to remind him of who his dad was and how to channel that into his depiction of Jack Pearson.
"What I also saw though was an opportunity with the way he was to just kind of be a version of my dad and the big three were actually me," he added.
"So I think anything that I was doing was just looking up to my dad. In my trailer, I had a photo of my dad and I of when I was a little kid and it said, 'Be a good husband. Be a good father.' And I was like, just look at that every day and you're there."
While some may think that the character of Jack Pearson was an unattainable image of what a father and husband could be, Ventimiglia disagrees, noting that Jack was actually very flawed.
He describes Pearson as "an attainable superhero" and "a great example of a man, great example of a husband, of a father who was flawed, absolutely had his flaws but he was someone, anyone, man, woman, child, old, young, any background from anywhere, you could aspire to be like him."
While playing Jack Pearson for six seasons on the hit ABC show, Ventimiglia received three nominations for the Primetime Emmy Award for Outstanding Lead Actor In A Drama Series, and twice received the Screen Actors Guild Award for Outstanding Performance By An Ensemble In A Drama Series as a cast member.