I'm A Former Miss America Contestant -- Here Are My Thoughts On Its Legacy
by Sophia Fifner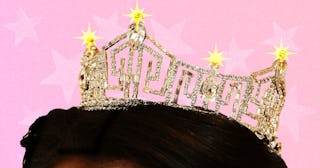 Julia Meslener for Scary Mommy and Jenny Dettrick/Araya Doheny/ Dimitris66/Getty
Miss America is not perfect. She's human. And like all humans, she evolves. She falls down, she stumbles, and like every strong woman, rises again.
On Wednesday, September 8th, the Miss America Organization celebrated its 100th anniversary. You read that correctly: 100 years of forever shaping American culture and life.
For better or for worse, Miss America has changed and challenged beauty norms. First as a controversial swimsuit competition on the boardwalk of Atlantic City and now, in its current form, a program that provides access to over $5M dollars in scholarships to women across the country every year. And, despite John Oliver's misgivings, the Miss America program continues to be one of the top scholarship providers for women and girls across the United States.
Miss America competitors are successful. They are doctors, lawyers, teachers, nurses, veterans and elected officials. More importantly, the organization's competitors who participate in local and state competitions achieve greatness in their field.
With that being said, despite the organization's legacy of promoting women, Miss America's history has included a roller coaster of joyful highs and terrifying lows since its inception:
High:
The pageant started as a modern bathing beauties competition in a city where the beach code prohibited women from displaying their knees. Thus, when Margaret Gorman, the first "Miss America," was crowned, her controversial attire was a progressive display of the new "modern" American woman.
Low:
From 1941–1967, Lenora Slaughter ruled the roost. Her strict rules, including rule number seven—which stated that "contestants must be of good health and of the white race"—led to decades of racist standards limiting the competition.
High:
The Miss America Pageant introduces scholarships to the organization in 1945, "which, with time, helped the organization become the country's leading provider of educational scholarships for women."
Low:
As we're reminded by American Experience, "It was not until 1970 that a Black woman, Iowa's Cheryl Brown, won a state title and made it to Atlantic City as a contestant." And it would be another decade and a half before a Black woman—Vanessa Williams, in 1984—would hold the title of Miss America. Her title would be short-lived: Later that year, Willams was forced to forfeit her crown after nude photos, taken long before the pageant, were published against her will.
High:
Miss America introduces the concept of a national platform in 1989, which encourages women and girls to advocate for a community cause during their year of service. This forever shifts the perception of Miss America from public figure to mission-driven advocate.
Low:
In the wake of the #MeToo era, the Miss America CEO and Board of Directors come under fire for their mistreatment of titleholders.
As you can see, Miss America's past is a patchwork of progressive wins and regrettable setbacks. Yet, despite its tribulations, I am forever grateful for my experience competing in the system.
Let me be clear: As a child, I never saw myself as a proverbial beauty queen. In fact, my first recollection of the pageant was watching Miss America 2004 Ericka Dunlap's interview with Oprah shortly after she won the title. If you're a pop culture buff, you'll remember her as the queen with the most exuberant winning reaction.
When I watched the interview, I saw her, a Black woman with rich mahogany skin, and saw myself.
Pageant note: At the time, Ericka was the first African American to be crowned Miss Florida in the pageants' 81-year history and, unfortunately, as of today remains the only African American to represent the state.
Regardless, while I recognized a part of myself in Ericka, I still couldn't picture myself wearing her sparkling crown. I didn't see it because, first, I didn't see myself as beautiful and, second, thought the pageant was just that—a beauty pageant on TV.
It would be several years before I was able to break away from that mindset, find the courage, and gain the perspective I needed to give the pageant world a second look.
However, after mustering up the bravery to compete in a Miss America competition in college, what I quickly learned was that Miss America is, above all else, a competition against your best self.
I've written about my pageant journey before. But since the Miss America program has reached its centennial, I think it's an appropriate time to share again the real-world value that the competition offered me. It wasn't simply a means by which to gain confidence in my physical appearance or conquer stage fright: It gave me the opportunity to find my voice.
Miss America challenged me to not only think critically about current events, but to actively lobby and find community-driven solutions. It provided me a platform to own my voice and a stage to articulate my vision on issues like female empowerment (even before #bodypositivity was a thing), financial literacy, and self-esteem. It gave me the tools and the roadmap to follow my lifelong passion of serving others through philanthropy.
Yet, with all of its tremendous good, I'd be a fool to not acknowledge the bad I experienced, too. I was told on multiple occasions that my nose was too wide, my body too curvy, and that my hair wasn't the beauty-queen standard.
Now, some may read the feedback I received and think, why on earth would she compete?
But any Black person who lives in America knows there is no system or structure in this country where racial barriers are not present. And, as a young woman, quite frankly, the Miss America system exposed me to America's truth: a complex, growing, empathic, living, challenged, scared, bright, opportunity-filled, and marred soul.
Thus, as a Black woman, Miss America exposed me to life. And, again, I'm not saying that the racial or biased feedback was right or good. I'm saying that the feedback and racial tropes are a reality within any structure of American life.
I find myself as an individual who sits on the centerline of our country's wokeness. By that, I mean that I go to church with members who are terrified by Critical Race Theory and words like intersectional gender equity—and the very next day I sit at a (virtual) roundtable of individuals who believe the country isn't doing enough to acknowledge either of the aforementioned issues.
I recognize that, to some, my support of the Miss America system may be perceived as though I'm not planting my flag firmly enough toward social justice. To others, my acknowledgment of Miss America's tumultuous past may be interpreted as being too critical of a valued cultural institution. To me? That's the beauty of America. We stretch, we grow and, often, we take steps backwards—but it's those backwards steps that ultimately allow us to learn and move ahead toward progress.
Miss America is America. She's nuanced and complicated in every positive and challenging way our country is. Miss America is a mirror of how our country defines greatness.
I'm excited about the advancements the Miss America organization has made in recent years. Since aging out of the system, Miss America has crowned three women of color, revamped its commitment to talent, service, and advocacy, and has boldly taken steps to embrace body positivity. While there is still more work to be done, there is much to celebrate in each of these recent efforts. In many ways, I echo the sentiment of Vanessa Williams—Miss America 1984. She wrote, "For better or worse, Miss America will always be a part of me. It doesn't define me, but it will always be a part of my story."
Miss America exposed me to America. She helped me learn to build bridges of understanding and, like any storied organization, has helped me understand that change sometimes takes generations.
Happy Birthday, Miss America. Cheers to 100 years, and here's to 100 more.
This article was originally published on