Mystic Pizza Star William R. Moses Is Really Sorry His Character Was Such A Jerk
The veteran actor memorably played Tim, Kat's older (and very much married) love interest.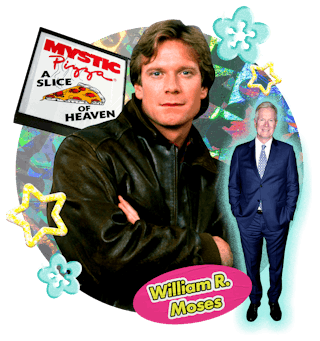 Ariela Basson/Scary Mommy; Getty Images, Shutterstock, thisismystic.com
It's hard to believe it's been nearly 35 years since the ever-charming movie Mystic Pizza hit theaters on Oct. 21, 1988. The now-cult-classic film, which follows two sisters played by Annabeth Gish and Julia Roberts (in her breakout role), was inspired by a real-life pizza shop of the same name in the town of Mystic, Connecticut.
Inside the restaurant today, the movie — which also stars Lili Taylor, William R. Moses, Conchata Ferrell, Vincent D'Onofrio, Adam Storke, and a feature-film debut from Matt Damon — plays on a loop. Photos of the film's stars, along with behind-the-scene pictures, cover the walls. Even the menu tells the story of how a humble, family-owned restaurant made it to the big screen.
I learned about both the restaurant and the movie during my first year of marriage when my Navy husband was stationed in the area. We'd rented a tiny apartment (as newlyweds do) right by the Mystic drawbridge — a short walk from Mystic Pizza. When I casually mentioned the name of the pizza place to my sister, she was downright indignant that I didn't realize it was *the* Mystic Pizza.
Long story short, I watched the film, fell in love with it, and for the duration of our life in Mystic, my husband and I ate there once a week.
I recently had the chance to return to the area, and it wasn't just a full-circle moment for me. William R. Moses, who plays Kat's considerably older and very much married love interest, Tim, was also back in Mystic — this time filming the Hallmark holiday movie Mystic Christmas, which debuts Oct. 28 (and, ironically, features another pizza joint).
When I sat down to speak with the veteran actor, he described the movie as "a little bit like catching lightning in a bottle."
"I've only read a few scripts that struck me as strongly as that one in my whole career … This is one of the very, very memorable ones I read right from page one," Moses says, adding, "I feel very fortunate and blessed that the movie still runs, and it's still being talked about."
The script isn't the only thing that stands out after all these years, either. Just as the real-life Mystic Pizza won me over as a young newlywed, it worked its magic on Moses.
"I wasn't going to go in," he shares of his experience visiting the restaurant for the first time while filming the 1988 movie. He'd done wardrobe on the first day and had some time to kill, so he decided to walk around town. When he saw Mystic Pizza, he wanted to get a photo — only there were people already there taking pictures with the sign. He waited and watched as they took their photos and then filed into the restaurant.
He lost his nerve to go in.
When the managers found out who he was (Moses was one of the film's few established stars prior to the film's debut, thanks to his long-running role on Falcon Crest), they sent him pizza, a gesture he fondly remembers as being "really nice." He went inside, chatted with the team there, and was, in a word, charmed.
As fondly as Moses remembers working on the movie back in 1988, talk turns to the possibility of a potential reboot. After all, we live in the era of adaptations and remakes. "I think you have to start with the girls," he thinks aloud of Kat, Daisy, and Jojo. "Would they still be in Mystic, or did they all move and come back? Or did they even come back? And does my character ever live down his day of infamy?"
Moses adds, "He would definitely need a redemption arc."
That day of infamy, as fans know, is the day Moses's character Tim sleeps with the oh-so-enamored Kat — only to completely ghost her when his wife returns from an out-of-town trip unexpectedly. Not surprisingly, the character was pretty maligned.
For Moses, though, playing the part meant tapping into Tim's humanity (wherever it was hiding).
"When I shot that movie, I didn't approach that character as a villain. I approached him as a human being in probably not the greatest marriage and troubled in ways," he explains. "And for what happened, he didn't mean for it to happen. It's hard to redeem something like that, but that is the human condition. We are flawed."
While yes, what Moses says is true, I'm still #teamkat. And since Moses is a genuinely lovely person in real life, he is too. So, when it comes to a Mystic Pizza reboot, he says one thing is certain: "The first thing [Tim] would have to do is eat a big plate of crow if my character comes back."