The 30+ Best Chick Flicks You'll Want to Binge With Your BFFs Tonight
by Team Scary Mommy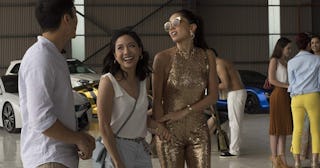 Warner Bros.
You've got your best friends, the junk food, the wine, and the pajamas. All you need now is a choice selection of chick flicks. For centuries (ok not centuries) it's movies like this that have helped cure bad breakups, period depression, or bad moods. Like a true girlfriend, these movies are filled with hope, cheesiness and, motivation and have had our back when we've needed them the most. And although they're not all gems, they hold the same spirit as fairytales, which is probably why we love them so much. Whether you're in the mood for love or woman empowerment, crying or laughing out loud, we've curated the best films you'll definitely want to watch tonight.
Grab a friend and hit the couch.
1. Legally Blonde
Elle Woods, a fashionable sorority queen, is dumped by her boyfriend. She decides to follow him to law school, and learns to love herself in the process.
Quote: "What, like it's hard?"
2. Crazy Rich Asians
Based on the global bestseller, New Yorker Rachel Chu goes to Singapore to meet her boyfriend's family who may or may not approve. Oh, and they're crazy rich. Quote: "Remember, every treasure comes with a price."
3. 13 Going on 30
Jennifer Garner wishes she was a grown-up on her 13th birthday and wakes up as a 30 year old, as if that's better. Quote: "I'll have a Piña Colada, not virgin. Wanna see my ID? Totally have it!"
4. The Notebook
Rachel and Ryan. Rain. Kissing. Enough said. Quote: "So it's not gonna be easy. It's going to be really hard; we're gonna have to work at this every day, but I want to do that because I want you. I want all of you, forever, every day. You and me… every day."
5. Pretty Woman
Rich guy Richard Gere falls in love with Julia Roberts, a sex worker, but, in truth, we all fall in love with her a little bit. Quote: "I want the fairytale."
6. Girls Trip
Four lifelong friends travel to New Orleans for the annual Essence Festival, and things get more than a little cuh-razy. Quote: "Girl, you can't get no infection in your booty hole! It's a booty hole!"
7. Sleepless in Seattle
Tom Hanks and Meg Ryan make falling in love with a perfect stranger seem like a perfectly reasonable thing to do. Quote: "It was like…magic."
8. Mystic Pizza
Three teenage girls come of age while serving up pizza in a small town called Mystic. Quote: "I'm tellin' you I LOVE YOU, and all you love is my *dick*! Do you know how that makes me feel?"
9. 27 Dresses
Katherine Heigl has been a bridesmaid 27 times. Now she's about to watch her sister marry the man who she really loves. Defines always being a bridesmaid and never the bride. Quote: "Love is patient, love is kind, love means slowly losing your mind."
10. The Proposal
Sandra Bullock forces Ryan Reynolds to marry her or else she'll be deported back to Canada, which, somehow, is a bad thing. Quote: "Three days ago, I loathed you. I used to dream about you getting hit by a cab. Then we had our little adventure up in Alaska and things started to change."
11. Love, Rosie
Best friends discover they might be right for each other all along. Of course doubt and confusion follow. Quote: "Better late than never."
12. Moonstruck
Cher falls in love with Nicolas Cage who happens to be her fiance's brother, and who also happens to be a one-handed romantic. Quote: "La bella luna! The moon brings the woman to the man. Capisci?"
13. Love and Basketball
Monica and Quincy love to play basketball together…and probably each other. Quote: "Damn, girl, I didn't know Nike made dresses."
14. Breakfast at Tiffany's
Audrey Hepburn defines what it means to be a single woman in New York who wants to be in love again but has been burned too much in her past to truly let go. Quote: "I'm like cat here, a no-name slob. We belong to nobody and nobody belongs to us. We don't even belong to each other."
15. 9 to 5
Dolly Parton, Jane Fonda, and Lily Tomlin are tired of taking crap from their crap boss, so they kidnap him. #Goddesses Quote: "What are you, a man or a mouse? I mean, a woman or a wouse?"
16. Beaches
Two best friends who are opposite in every way share a turbulent but loving friendship that will definitely make you cry. Quote: "You're not dead yet: so stop living as if you are!"
17. Thelma & Louise
Geena Davis and Susan Sarandon are BFFs in this movie that begs the question: who would you drive off a cliff for? Quote: "Well, you get what you settle for."
18. Steel Magnolias
There are too many amazing celebs in this movie to count, and they're all fabulous, and they support each other even though they bitch about each other and it's fantastic. Quote: "Well, you know what they say: if you don't have anything nice to say about anybody, come sit by me!"
19. Notting Hill
Imagine if Julia Roberts fell in love with a British bookstore owner who looked like Hugh Grant? That's this story. Quote: "And don't forget… I'm also just a girl, standing in front of a boy, asking him to love her."
20. Boys on the Side
Mary Louise Parker, Whoopi Goldberg, and Drew Barrymore become friends and move in together in this underrated flick about true love. Quote: "You know what's weird? You never know the last time you sleep with somebody it's the last time. You're thinking: 'Oh, we got problems, we got work to do,' you know, but you never think… and then you break up and a month later you look back and you go: 'Oh, that was it.'"
21. Roman Holiday
Audrey Hepburn plays a princess who escapes her royal life for a night only to fall in the love with the very sexy newspaper man played by Gregory Peck. Quote: "I have to leave you now. I'm going to that corner there and turn. You must stay in the car and drive away. Promise not to watch me go beyond the corner. Just drive away and leave me as I leave you."
22. Miss Congeniality
Sandra Bullock plays a wallflower-type FBI agent who goes undercover at a beauty pageant to save the world or something. Quote: "I am in a dress, I have gel in my hair, I haven't slept all night, I'm starved, and I'm armed! Don't *mess* with me!"
23. Mean Girls
The only movie in which we totally relate to Lindsay Lohan and hate on Rachel McAdams. Quote: "On Wednesdays we wear pink!"
24. Clueless
A '90s classic retelling of Jane Austen's "Emma" starring Alicia Silverstone as the Valley Girl we all aspire to be. Quote: "As if!"
25. 10 Things I Hate About You
Heath Ledger and Julia Stiles have major chemistry in this unique feminist twist on "The Taming of the Shrew." Quote: "Ooh, see that, there. Who needs affection when I have blind hatred?"
26. You've Got Mail
Tom Hanks and Meg Ryan reunite, and cuteness ensues, thanks to AOL. (AOL?! LOL). Quote: "He could be anyone! It could be that guy right there! And those flowers could be for you!"
27. The Devil Wears Prada
Anne Hathaway lands her dream internship at a Vogue-ish magazine run by the devilish Meryl Streep who's doing her best Anna Wintour impression. Quote: "Is there some reason that my coffee isn't here? Has she died or something?"
28. Crazy Stupid Love
A celeb-studded cast deals with the ups and downs of love yada yada, all you need to know is Ryan Gosling appears shirtless. Quote: "I will never stop trying. Because when you find the one… you never give up."
29. To All the Boys I've Loved Before
Imagine if all your secret crushes were revealed? Horrific, right? But maybe not if it leads you to perfect love. Quote: "You can be mad at someone and still miss them."
30. Bridesmaids
The funniest and most relatable movie about friendship and being a bridesmaid, but more importantly, Melissa McCarthy steals every scene. Quote: "I'm glad he's single because I'm going to climb that like a tree."
31. Leap Year
Have you ever fantasized about proposing to your boyfriend? Well, Amy Adams does, and it brings her to Ireland and a handsome Irishman who's not her boyfriend. Quote: "May you never steal, lie, or cheat, but if you must steal, then steal away my sorrows, and if you must lie, lie with me all the nights of my life, and if you must cheat, then please cheat death because I couldn't live a day without you."
32. Romy and Michele's High School Reunion
You can't go wrong with a movie about two besties embarking on an adventure or in this case, a road trip. Mira Sorvino and Lisa Kudrow play two dim-witted friends who are headed to their ten-year high school remaining. Their mission is to impress their old classmates, which they're willing to do by any means necessary. Quote: "You're a bad person with an ugly heart, and we don't give a flying f**k what you think."
Related: 100+ Friendship Quotes Tailor Made For You And Your BFF
This article was originally published on