shut up and take my money
The New Twin American Girl Dolls Are Straight From The '90s
And we want them for ourselves, honestly.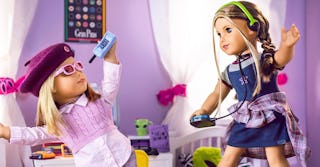 American Girl
We may receive a portion of sales if you purchase a product through a link in this article.
Get ready to be transported back to your youth! American Girl just unveiled their latest dolls, and they are giving off so much late '90s nostalgia.
If you just thought to yourself, "I am way too young for there to be a historical American Girl doll from when I was a kid," you would be so very wrong. They're here, and they're actually so adorable I could cry.
The legendary doll company revealed the first-ever twin set of dolls for the company's flagship historical collection — Isabel and Nicki Hoffman. The fraternal twins' backstory centers around their life in Seattle in 1999.
"Given the prevalent wave of '90s trends and pop culture nostalgia, we're excited to celebrate like it's 1999 with our newest historical duo Isabel and Nicki," Jamie Cygielman, general manager of American Girl, said in a statement released Wednesday.
"We know our fans will love getting to know more about the '90s with Isabel and Nicki and discovering the girl power in all of our beloved heroines."
The 18-inch Isabel doll has green eyes and medium-length blonde hair. She comes dressed in a purple sweater and multicolored plaid skirt definitely channeling everyone's favorite '90s film legend — Cher Horowitz from Clueless.
The 18-inch Nicki doll has blue eyes and long straight brown hair with two face-framing blonde highlights. She arrives wearing a gray T-shirt with purple trim, a T-shirt dress with a star graphic on the front, as well as a plaid flannel shirt that's wrapped around her waist to really lean into that '90s Seattle grunge vibe.
Both dolls come with My Journal paperback books written by real-life twin authors, Julia DeVillers and Jennifer Roy.
The American Girl Doll website describes Isabel as "bubbly, extroverted, and very into pop music" while Nicki is "thoughtful, introverted, and passionate about skateboarding."
Though the girls have differing hobbies (Nicki loves zines and Isabel is into interior decorating), they both "have to learn how to get along and support one another, culminating in a very twin-tastic response to celebrating the millennium."
The dolls have literally the best accessories of any American Girl Doll I've ever seen (Maybe I'm bias as a '90s kid!) including a white wooden desk with CD tower that probably included albums like Spice World, ...Baby One More Time, and Enema Of The State.
The girls also have a desktop computer that they "each get 30 minutes of Internet time each day" as well as two floppy disks that can be inserted into the pretend floppy drive of the CPU, as well as two pretend CDs that can be inserted into the pretend CD drive.
The computer screen even projects what seems to look like some sort of AOL-like platform because if you weren't talking to random strangers in chatrooms when you were a kid in the late '90s did you even live?
The girls also have cordless phone, an alien-head-shaped mug, and a fabric rug with a yin-yang pattern which was "a gift from Mom and Dad for Christmas to represent balance between the twins."
These twin dolls are definitely giving off some Mary-Kate and Ashley Olsen in It Takes Two vibes with American Girl describing the girls as different as "glitter and grudge."
By this point, I'm sure you've decided which twin doll was more your vibe when you were 12 years old. Did you have a purple blow up chair and mix CDs strewn all over your floor like Nicki? Or were you more like Isabel with cat posters and butterfly string lights on your bed frame? I feel like I'm mostly Nicki with some Isabel sprinkled in, but I digress.
American Girl has also included the girls' athletic interests in their available accessories. "Isabel wants to learn to play tennis and show off her sportiness, and Nicki is determined to do tricks on her skateboard to impress the local skaters. Both twins can perfect their skills with this 2-in-1 tennis court and skate-spot set," the website reads.
When the girls aren't skating or hitting balls on the court, they're winding down with some Pizza Hut. Like so many of us in the '90s did, Isabel and Nicki participate in Pizza Hut's® BOOK IT!™ Program where you read to get a free one-topping personal pan pizza.
The pizza accessory even comes with a mini-copy of Super Slumber Parties, an American Girl® book for girls released in 1997 that I literally had, and now wish I had a full-version of.
Whether you're an Isabel or a Nicki, American Girl hopes that all girls can agree in the importance of being true to yourself and expressing girl power in their own individualistic ways.
"For Isabel, girl power is about the messages of the Spice Girls, expressing herself loudly, and standing up for herself. For Nicki, girl power is about learning to use her voice, not being afraid to mess up, and the alternative music she loves," the website reads.
The Isabel and Nicki collection will be available on Wednesday online and at all American Girl retail locations nationwide.