17 New Summer Reads To Take You From Poolside To Beachfront & Everywhere Between
These books are sure to make a splash.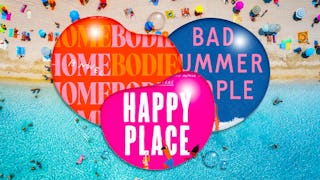 Emma Chao/Scary Mommy; Courtesy of Homebodies, Bad Summer People, Happy Place; Getty Images
It's no secret that most of the year's highly anticipated books drop during the summer months. It's called beach read season for a reason. The gloomy weather is finally lifting, the pool bag has taken back its rightful throne, there's a hint of salt in the air — and any plans that don't include reading near a body of water will be turned down unless a cocktail and the AC are involved.
This summer promises another collection of blockbuster reads. Scary Mommy Book Club authors Emily Henry and Carley Fortune, who lit the book world ablaze last summer, both published new romance titles this May. We're also excited to reign in a new community of debut novelists, including Tembe Denton-Hurst, Haley Jakobson, Ore Agbaje-Williams, and Victoria Benton Frank (daughter of late beach read queen Dorothea Benton Frank). If you're looking for a raunchy storyline to sink your teeth into or a queer coming-of-age story that'll move you to pieces, open up Goodreads because we have those, too.
Whatever your beach read criteria is — a book that'll pull you away with the ocean's tide or something that'll distract you from watching Daisy Jones & The Six for the gazillionth time — there's a book on our summer reading list for everyone.
Here are the best 2023 summer releases we can't wait to toss in our beach bag.
Happy Place by Emily Henry
Is it really beach read season if we don't have a new Emily Henry novel in our beach bags? Let's set the scene: Exes Harriet and Wyn wager a deal that they'll pretend to still be blissfully in love (despite secretly breaking up five months ago) for the sake of their friend group during their annual weeklong vacation in Maine. Two exes, one bed? Sure, that won't be a problem! Pretending like all is fine in front of your chosen family? Nah, no one will notice! Harriet and Wyn were once over the moon for one another; surely they can fake it for a week.
The One by Julia Argy
In this Bachelorette-esque title, a woman gets tapped to star in a popular reality dating TV show. Candlelit dinners, stargazing, hot contestants — how hard can it be to be wined and dined by the world's most eligible, right? But as the show advances, the lines between real-life and set life are blurred, and Emily becomes less sure of her "wife" abilities. With her eyes wandering to another contestant, Emily and her producer Miranda (and Miranda's skewed intentions) will have to decide what it really means to get your happily ever after.
Meet Me at the Lake by Carley Fortune
Fortune is back with her sophomore novel, a second-chance romance in which two strangers spend one fateful day together and awkwardly reunite a decade later… after one of them didn't hold up their side of the bargain. The last person Fern expected to walk through the door of her mom's lakeside resort was Will, let alone Will in a shiny suit with a briefcase. Despite their broken trust, Fern needs Will's help if she plans to keep her mom's resort afloat.
The Comeback Summer by Ali Brady
With their PR agency on the fritz, Hannah and Libby unthinkingly agree to complete a potential (read: wealthy) client's 12-week challenge if it means securing her account and avoiding bankruptcy. Hannah must go on 12 first dates to help overcome her fear of small talk, while Libby's challenge is to run an obstacle course. Each other's accountability trackers, everything is going to plan until their challenges get crossed — and it's Libby falling for one of Hannah's dates instead.
Homebodies by Tembe Denton-Hurst
Denton-Hurst's poignant and captivating debut is on its way to becoming one of summer's "it" books. In its pages, we meet a young Black queer writer whose orbit is turned on its head when she's let go from her dream job and composes a striking letter about racism and sexism in the industry. The public's response? Radio silence. A trip back home toys with Mickey's heart (in more ways than one), and just when she thinks she's coming out of the fog, her letter finds itself in the center light of a media scandal.
Yellowface by R. F Kuang
In this literary masterpiece, we meet June Hayward, an aspiring writer who would do quite literally anything to be an established author — even if it means passing off a dead person's finished manuscript about Chinese laborers during WWI as her own. Lucky for June, racial ignorance runs deep in her publisher's house. Under her team's discretion, June rebrands herself as Juniper Song, an Asian American author whose new book is slated to become a New York Times bestseller. What could possibly go wrong?
The Three of Us by Ore Agbaje-Williams
Your husband thinks your best friend is a bad influence, and she thinks he's the worst thing that's ever happened to you. Now what? Told in three parts — the wife, the husband, and the best friend — over the course of one day, The Three of Us dives into the sometimes uncomfortable, sometimes comical, and sometimes egocentric triangle between a wife and her two soulmates: a partner and best friend.
Bad Summer People by Emma Rosenblum
Every summer, we look forward to sinking our beach chairs into a new twisted thriller set on the pearly white sands of an affluent beach town, and this year we're jet-setting to Fire Island in the debut novel from Emma Rosenblum, aka BDG's (Scary Mommy's parent company) Chief Content Officer. The summer kicks off like any other. There's tennis to be played, tea to be spilled, and cocktails to be sipped. Albeit, the group's summer plans take an unforeseen turn when a dead body is found near the boardwalk.
The Whispers by Ashley Audrain
From the author of The Push comes an electrifying psychological thriller about motherhood and what happens when our selfishness kicks into overdrive, overshadowing our children's needs. It's told from four different POVs and over the course of seven days, as the women of the neighborhood are forced to look inward following a horrific incident that put one of their sons in a coma.
My Magnolia Summer by Victoria Benton Frank
In Victoria Benton Frank's debut novel, readers are transported to Sullivan's Island in South Carolina, the hometown of our protagonist and newly minted New Yorker, Maggie. A life-threatening accident sends Maggie rushing home to tend to her Gran, who has fallen into a coma thanks to her daughter, Maggie's troubled mom. Yeah, it's complicated. Between her sister's impending breakup and the demise of the family restaurant, Maggie's return to the Big Apple is nowhere in sight. Luckily, she's found a new friend in a local hot farmer to keep her company.
The Spectacular by Fiona Davis
Loosely based on the true story of Manhattan's "Mad Bomber" and his 16-year reign of terror over the Big Apple, The Spectacular centers around a Radio City Rockette and an avant-garde psychologist, who aid the police in tracking down the Big Apple's most wanted man. Inspiration for the story first struck Davis when she received a letter from a retired Rockette in her eighties. The iconic landmark's secret passageways and dark history made for the perfect setting for a historical fiction masterpiece.
Publishes: June 13
Old Enough by Haley Jakobson
Sav Henry's optimism goes out the door when she learns that her childhood best friend is betrothed. Fresh out of a situationship herself (her first queer situationship, to be exact), Sav is not ready to face Izzie's older brother, especially after what happened between them years ago. Then there's Wes from her Gender Studies class, who Sav, as try as she may, can't get out of her head. Jakobson's debut novel explores what it means to find your tribe as a young bisexual woman while also falling in love.
Publishes: June 20
The Apartment by Ana Menéndez
Ava Menéndez's timely piece introduces a revolving door of tenants who've lived in apartment 2B at The Helena, an art deco apartment building in South Miami Beach. From a Cuban concert pianist to a young refugee to a husband with a green card marriage, their tears, hopes, and fears are etched into apartment 2B's walls. The book spans seven decades, leading us to the building's current (and very mysterious) 2B tenant, Lana.
Publishes: June 27
The Wife App by Carolyn Mackler
Lauren, Madeline, and Sophie have been there for each other through thick and thin and, quite frankly, are done putting up with the patriarchy's B.S. Like how all good ideas begin, the trio gets a little drunk and brainstorms ideas for an app that monetizes a wife's labor. It's not long before the Wife App takes over New York City, and the women start enjoying the fruits of their once-unappreciated labor. But when life, love, and ex-husbands come barreling in, the trio's newfound level of success and respect is threatened.
Publishes: June 27
Thicker Than Water by Megan Collins
Sister-in-laws-turned-business-partners Julia and Sienna Larkin are about to find out if blood is truly thicker than water when Jason (Julia's husband and Sienna's brother) is labeled the prime suspect in a murder investigation. As if that isn't unsettling enough, a horrific car accident sends Jason into a medically induced coma, leaving Julia and Sienna to fight for his innocence. But how well did Sienna really know her brother? And has Julia been sharing a bed with a killer all this time?
Publishes: July 11
The Freedom Clause by Hannah Sloane
In an attempt to spice up their sex life, college sweethearts Dominic and Daphne decide to open up their marriage — but with limits. For starters, each is only allowed to sleep with one other person, one night a year, and in five years, they'll stop. The idea of an annual one-night romp with a stranger empowers Daphne to try new things in the bedroom and put her wants first. The clause takes on an identity of itself when Daphne launches an anonymous newsletter detailing her sexcapades.
Publishes: July 25
None of This Is True by Lisa Jewell
A true page-turner, None of This is True follows true-crime podcaster Alix Summer and her birthday twin, Josie Fair, who wickedly persuades Alix to make her (Josie) the subject of her next series. Unbeknownst to Alix, Josie is a bit of an oddball and her past is equally complex, which means she'll make for an excellent subject. As things progress, it dawns on Alix that she's seemingly invited a stranger into her world with open arms; but it's too late, because Josie is about to flip the script on Alix. Who's the victim now?
Publishes: August 11