7 Books For Daisy Jones & The Six Groupies
Discover your next Daisy and Billy duo.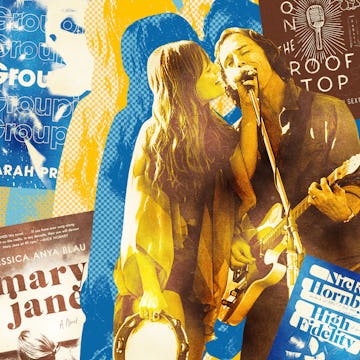 Ariela Basson/Scary Mommy; Amazon, Amazon Studios
We may receive a portion of sales if you purchase a product through a link in this article.
Bookworms didn't need a book-to-TV adaption to know Daisy Jones & The Six is an all-encompassing, dynamite story. Written by one of this generation's most talented authors, Taylor Jenkins Reid, the novel centers around aspiring singer-songwriter Daisy Jones and a rock and roll band from Pittsburg called The Six. As the two fight to make their mark in the '70s, they're unwillingly brought together. Their first song together catapults the newly minted Daisy Jones & The Six to newfound stardom... then they break up.
TJR's storytelling has captivated readers for years (One True Loves is set to premiere this year, while Netflix bought the film rights for The Seven Husbands of Evelyn Hugo). Thanks to the movie powers that be, aka Reese Witherspoon's Hello Sunshine, the fictional '70s rockstar band doesn't feel so fictional anymore.
If you're eager to jump back into the old-school rock scene or looking to plant your groupie roots elsewhere, this list of books will satisfy your Daisy Jones-Billy Dunne craving. We only wish all music/band genre books came with a real-life record.
The Unraveling of Cassidy Holmes by Elissa Sloan
Pop supergroup Gloss was the hottest thing of the early aughts until their explosive breakup in 2002. When the sudden death of fan-favorite Cassidy "Sassy" Holmes makes headlines, her estranged bandmates are left reeling in grief, shock, and guilt. Could they have seen this coming? Did they turn a blind eye to Cassidy's struggles? Narrated by multiple characters (including Cassidy) over the course of the band's rise and fall to fame, The Unraveling of Cassidy Holmes is a deep dive into the complicated life of a pop icon — and the glitz, glam, and demons that often accompany it.
Groupies by Sarah Priscus
Faun shares Camila's love for photography — or, more specifically, her love for photographing musicians and being a groupie of a '70s rock and roll band. Upon reconnecting with her childhood friend after her mom's death, Faun takes up permanent residence as a Holiday Sun groupie. As her own career begins to take off, so do her inhibitions, leading her to the darkest pits of the music world.
Mary Jane by Jessica Anya Blau
A summer to remember. Set in 1970s Baltimore, Mary Jane accepts a job nannying a psychiatrist's daughter for the summer. Two weeks into her new gig, Mary Jane finds herself sitting opposite one of the biggest rock stars in the world — who, unbeknownst to her, has moved into her boss's home as part of his journey to sobriety. (The relationship between the psychiatrist and rockstar is giving major Billy Dunne-Teddy Price energy, right?) Mary Jane is quickly inundated with "a liberal world of sex, drugs, and rock and roll (not to mention group therapy)."
Fast Lane by Kristen Ashley
Written in a similar interview format as Daisy Jones & The Six, Fast Lane follows The Roadmasters' rise to peak stardom as they take over the rock and roll scene during the '80s and '90s. Propelled by drugs and booze, the band continues to shell out hits — and at the center is Lyla. Much like Camila, she is their steady hand, their dose of reality, but most importantly, their frontman's muse. Life in the fast lane can be exhilarating until it all comes crashing down.
On the Rooftop by Margaret Wilkerson Sexton
If you're looking to lean more into a storyline similar to Simone's, check out On the Rooftop. Inside its pages, we meet a '50s jazz sister band called The Salvations, managed by their protective mother, Vivian. Their big break gets sideswiped by a team of white developers eager to buy out their town's Black property owners. Soon, Ruth, Esther, and Chloe's individual wants and needs put their band's dreams on the fritz.
High Fidelity by Nick Hornby
Another book-to-TV adaptation, High Fidelity centers around an unhappy record store owner named Rob, whose girlfriend Laura just walked out on him. Though, she didn't go far — her new man lives on the floor above his. Rob's day consists of his employees' top fives, whether it's albums, songs, films, or Cheers episodes. An exciting fling with a singer proves fruitless when Laura is brought back into his orbit. Suddenly, the life he once despised — the white picket fence, manicured lawn fantasy — sounds a little more appealing. You can stream the TV series starring Zoë Kravitz on Hulu.
The Seven Husbands of Evelyn Hugo by Taylor Jenkins Reid
Evelyn Hugo is one of my favorite Taylor Jenkins Reid characters, personally. Like other TJR novels, this fictional masterpiece is told in now-and-then chapters through the eyes of Evelyn herself and the woman she's appointed to write her life story. Evelyn spills her secrets as a former Hollywood scarlet and the seven men she married along the way. Coming to Netflix soon!