Taylor Swift Totally Geeked Out During *NSYNC's Surprise Onstage Reunion
And she has some suspicions about what's coming next.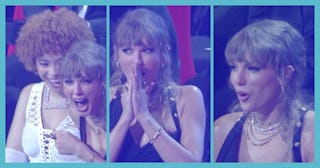 MTV
At the 2023 MTV Video Music Awards last night, viewers were treated to an amazing surprise when all five former members of pop boy band supergroup *NSYNC walked onto the VMA stage.
There have been rumblings here and there about whether or not the "Bye Bye Bye" singers were planning a little reunion of sorts, but this surprise appearance sure seems to hint to something, doesn't it?
And Taylor Swift agrees.
After Justin Timberlake, Lance Bass, Joey Fatone, JC Chasez, and Chris Kirkpatrick awarded Swift the Moonman trophy for best pop video, she gave a hilariously awkward and totally relatable speech, speaking for every millennial watching from their couch at home.
"I'm not doing well pivoting from this to this," Swift said, gesturing between the band and her award. "I had your dolls!"
It's been 22 years since the release of *NSYNC's last studio album, Celebrity.
The boy band was an unstoppable force in the 1990s and early 2000s with hits like "Tearin' Up My Heart" and "It's Gonna Be Me."
The group went on hiatus in 2002 and have only appeared together a handful of times since then. The five of them last performed together at the 2013 VMAs during a Timberlake performance.
At the VMAs, Bass even handed Swift a beaded friendship bracelet, a popular trend from her Eras Tour shows — which is an homage to the line in her song, "You're on Your Own Kid," in which she sings, "Make the friendship bracelets / Take the moment and taste it."
She then mentions the thought that was on everyone's mind: Are these five men up to something?
"I, like — what, like — are you doing something? What's going to happen now? They're going to do something, and I need to know what it is!" she exclaimed. "You guys are pop personified. So to receive this from your golden pop hands is... really, it's too much."
Her quizzical looks and suspicions are mostly likely spot-on, especially coming from the queen of Easter eggs.
Swift was once again "millennial triggered" when she accepted another award. This time, from Nelly Furtado and Timbaland. Swift gushed about Timbaland and Furtado's presence, asking if the duo were gunning to "do something" together.
The "Promiscuous Girl" duo did, in fact, do something together as they released "Keep Going Up" with Timberlake a week prior.
Here's to a fine blend of pop nostalgia and modern music making.