Pamela Anderson Says The Year She Spent Alone Was "The Happiest" Of Her Life
Anderson sat down for an intimate interview with Drew Barrymore.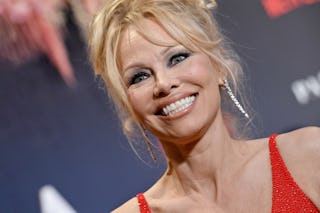 Axelle/Bauer-Griffin/FilmMagic/Getty Images
We may receive a portion of sales if you purchase a product through a link in this article.
It might feel baffling that a sex icon like Pamela Anderson would ever be single, but the new author and Baywatch alum has spent some time alone, and according to her, it's the best thing she ever did.
Anderson, 55, sat down with Drew Barrymore for a special, intimate interview for The Drew Barrymore Show where the two talked about kids, dating, and their days posing for Playboy.
While chatting about past loves and her children's father, Anderson said that she felt peace about the possibility of never finding love again.
"I don't even care if I'm alone the rest of my life. I've experienced really wonderful, loving moments, and sometimes, things don't last forever for a reason," she said. "And it's okay. It's fine."
"And the last year I spent alone, I think it's been the happiest year of my life."
The two also reminisced about their days posing for Playboy. "When I was doing Playboy and loving it and having so much fun and don't regret a thing and love it, I didn't know I'd have kids later," Barrymore said.
Anderson recalled bringing her "kids to the Playboy Mansion every Easter," and a specific instance when she was getting in the car when her son Brandon came out and asked her if she knew what Playboy founder Hugh Hefner did for a living.
"'He takes pictures of naked girls!'" she recalled him saying. "I was like, 'Oh my gosh, get in the car. Let's get out of here!'"
She also shared what she learned from her time spent at the mansion and it wasn't all bad, according to Anderson.
"I learned that there are such things as philanthropists and art and gentlemen and chivalry," she said. "And as crazy as people really want me to always say something bad about it, I didn't have a bad experience. That was so much better than where I had come from."
Anderson, who shares two sons — Brandon Thomas, 26, and Dylan Jagger, 25 — with ex-husband and rocker Tommy Lee, 60, noted that she's never really gotten over her love for Lee though the two have been apart since 1998.
"Something I had never heard another woman say was that, 'I don't really know exactly how to love someone that isn't my kids' dad,'" Barrymore said of Anderson's words in her memoir — Love, Pamela.
"I know. That's hard, isn't it?" Anderson replied. "It's just that connection that you don't have with anybody else, and people may say that they can get past it, but I can't. I haven't been able to."
Though Lee might be the love of her life, Anderson is feeling just fine being single and living on her grandparent's former farmhouse on Vancouver Island.
"I live a more romantic life now that I'm alone than I did in relationships," Anderson told People in January.
"I light my candles, have my music playing. I have my piano, I'm sure it would be lovely if someone else was in my life and wanted the same thing but I've just never met them. It's usually about catering to them, and there has to be a balance."
Anderson has been married four more times since Lee. Once to singer Kid Rock, twice to professional poker player Rick Salomon, and another to her bodyguard at the time, Dan Hayhurst.
In her new memoir, Anderson dives deeper into her past relationships and what she has learned from all the heartache, but the most important thing?
Not only can she buy her own flowers á la Miley Cyrus, but she can grow them.
"I don't need someone to bring me roses," Anderson told People. "I've just planted a hundred rose bushes. I can get them any time I want — and they're my favorite roses."