Peyton Hillis Has Been Discharged From The Hospital After Saving His Drowning Kids
The former NFL running back nearly drowned after saving his own children from drowning in in Pensacola, Florida.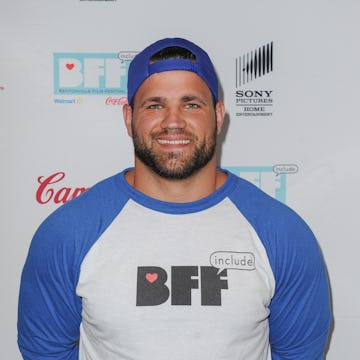 Ernesto Di Stefano Photography/Getty Images Entertainment/Getty Images
Peyton Hillis has finally been discharged from the hospital just over two weeks since nearly drowning while saving his kids from the water in Pensacola, Florida.
"Peyton was discharged today from the hospital!!!!!!!!!!!!! Everything health wise is looking good and has all improved— truly a miracle!!" Hayley Davis, Peyton's sister, wrote on Facebook.
"I remember seeing Peyt laid out on the sand unable to move and my mom having to run back and forth between us as the medics helped each of us . I just kept praying that Peyt would be ok," his sister recalled in the post before thanking friends, families, and fans for their outpouring of support.
The former NFL player's initial prognosis was dire, as he suffered damage to his lungs and his kidneys in the accident, per TMZ.
"God has truly been with us and has carried us through. I am so thankful to know a mighty God during good times and bad," Davis added.
The 36-year-old former NFL running back had been in the hospital since the Jan. 4 incident. Hillis rushed from the beach to the water to rescue his two children, whom he shares with ex-wife Amanda Hillis. His sister also ran into the water to help the children in peril, and was separately taken to a hospital via ambulance.
The two children were unharmed, but Hillis suffered injuries and was transported by helicopter to a nearby medical facility. Hillis was initially unconscious, and doctors were concerned about his kidneys and lungs. He was taken off a ventilator a week later. Now, almost three weeks later, he has left the hospital.
Hillis played in the NFL from 2008 to 2014 for the Giants, Browns, Broncos, and Chiefs. Here's to a speedy continued at-home recovery for the hero dad.