Pink's Daughter Can't Have A Cell Phone Until She "Produces Literature" That Social Media Is Good For Kids
"She's the only 11-year-old in her class who doesn't have a phone," she added.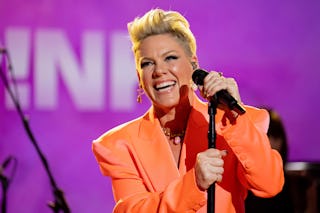 NBC/NBCUniversal/Getty Images
While promoting her newest album, Trustfall, pop singer Pink has been revealing details about her journey through motherhood, how she balances her career, and some of the parenting strategies she uses that may have some people scratching their heads and others taking notes.
While chatting with Caroline and Greg T In The Morning on KTU 103.5 FM, Greg T brought up the pressures on parents to give in to their kids' asks for cellphones and social media accounts, and Pink shared her strict household rules on screens and social sharing.
And since Pink is a huge public figure, those conversations get a lot more complicated for her and her kids. The 43-year-old "Never Gonna Not Dance Again" singer revealed in the interview that her 11-year-old daughter —Willow Sage Hart — doesn't even have a cellphone let alone a TikTok account.
"My kids don't have a phone," she said. "And my daughter is the only 11-year-old in her class that doesn't have one."
"It's hard. A lot of my friends, they have their kids on TikTok, and I don't. I told Willow, 'That just doesn't move my needle. They're not my kids. You're my kid."
While this may not be too surprising because 11 is still pretty young for that kind of technological freedom, she did explain why she and husband of 17 years — motocross biker, Carey Hart — chose this route.
"She has a lot of eyes on her..." the pop singer noted.
The mother of two — who also shares six-year-old son, Jameson Moon, with Hart — explained that while Willow does not have a cellphone, she does have a smartwatch so she can text her mom in case of an emergency.
The "So What?" singer then revealed her one condition that Willow has to meet if she wants to have a cellphone of her own and start using social media.
"I told her, point blank, 'If you can produce literature from a reputable source that tells me that social media is good for you, then you can be on it. Otherwise, good luck.'"
And while, yes, there is some research out there that shows some benefits of using social media, the jury is still out on if that trumps the overwhelming amount of evidence that it's actually terrible for preteens and teens, especially when it comes to mental health and body image, especially when it comes to girls.
Pink then joked that her stipulation for Willow might actually come back to bite her. "She could be a lawyer, she could literally pass the bar. She's always right," she said.
"She might actually find that literature, but good luck!"
This summer, Pink is gearing up for an extensive world tour that will kick off in the United Kingdom on June 7 before heading back to the U.S. for another leg in July.
And while Willow may not have a cellphone just yet, she does have a paid hourly job on her mom's tour.
"Willow has a job on tour," Pink told Today. "We just had to go over minimum wage and it's different state to state."
Pink tool her daughter's first real job as an opportunity to teach her about salary negotiations.
"I said it's about $22.50 a show depending how long I go, if I run over," Pink explained . "She goes, 'I'll take $20. it's easier to do the math.' I'm like 'That's not how you negotiate for yourself.' I'm like, 'You'll take $25 so it's easier math."
Pink may be one of the best-selling music artists of all time, including being the UK's most-played female artist of 21st century, it seems like she's also got this mom-thing down pact.