Pink Gave Her 11-year-Old Daughter A Job On Her World Tour
And bonus: She's teaching Willow about salary negotiation.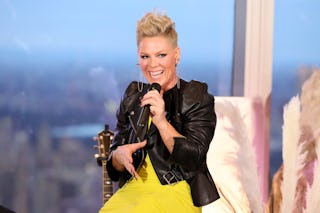 Theo Wargo/Getty Images Entertainment/Getty Images
Pink has just released her ninth studio album, Trustfall, to the delight of millions of fans and positive reviews from outlets like Rolling Stone. And this summer, she's getting ready to embark on an extensive world tour that will kick off in the United Kingdom on June 7 before heading back to the U.S. for another leg in July.
That's exciting and all, but it's also big news for her 11-year-old daughter Willow, who will be tagging along in a professional capacity.
"Willow has a job on tour," Pink told Today. "We just had to go over minimum wage and it's different state to state."
Don't look for any nepo babies here: It seems like Willow is really starting on the lowest rung of the ladder as far as wages go.
Still, Pink has taken her kid's first real job as an opportunity to teach her about salary negotiations.
"I said it's about $22.50 a show depending how long I go, if I run over," Pink explained later in the interview. "She goes, 'I'll take $20. it's easier to do the math.' I'm like 'That's not how you negotiate for yourself.' I'm like, 'You'll take $25 so it's easier math."
It's not clear what Willow will be helping with on tour, and whether she'll be out in front of the lights performing or helping backstage with rigging.
We do know, though, that Willow can sing and perform. She's appeared with her mom for a couple of duets in the past, including a cover of "A Million Dreams" in 2018 and a performance of "The Christmas Song" in 2020.
Most recently, Pink posted a recital in which Willow kills a rendition of Olivia Rodrigo's "The Rose Song."
Jameson, the family's 6-year-old, will also be joining the group for the tour, though it doesn't sound like he'll be on the clock.
Still not clear, though, whether Willow will ever get a cell phone. Maybe soon she'll be able to afford one herself — or else negotiate for it.