Prince Harry Alleges In His New Memoir That Prince William Assaulted Him
In his new book Spare, Harry says William physically attacked him during an argument.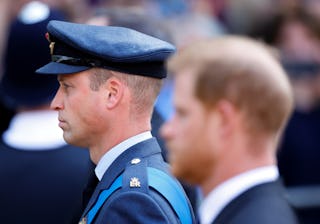 Max Mumby/Indigo/Getty Images Entertainment/Getty Images
We may receive a portion of sales if you purchase a product through a link in this article.
The drama continues between the Royal family and Prince Harry and Meghan Markle amid the release of their explosive docuseries on Netflix last month. To make matters worse, the Duke of Sussex is set to release his very first tell-all memoir next week, Spare. While he prepares for the launch, The Guardian got an early copy, and says in an exclusive that Prince Harry recounts his brother physically attacking him during an argument in 2019.
During an altercation in Prince Harry's London residence, the news outlet shares that Prince William referred to Meghan Markle as "difficult, rude, and abrasive," which Harry calls a "parrot[ing of] the press narrative about his American wife."
The Guardian shares that this scene is just one of many outbursts recounted in the pages of the memoir.
In a breakdown of the argument, the book shares that Prince William arrived at Harry and Meghan's home already "piping hot" and that both men began to bicker back and forth. Harry then accused William of following the press narrative and acting like an "heir" instead of his brother about his situation.
In the docuseries Harry and Meghan, the couple speak extensively about their struggles with the British tabloids while serving the Monarchy and that they felt the family didn't do enough to protect the well-being of Meghan during this time.
Here's what went down, according to Guardian's reading of the book.
After William proclaims to Harry that he was only "trying to help," Harry responds, "Are you serious? Help me? Sorry – is that what you call this? Helping me?"
He admitted that this heightened the tension, in which Harry attempted to calm William down by handing him a glass of water. He then recounted the following: "He set down the water, called me another name, then came at me. It all happened so fast. So very fast. He grabbed me by the collar, ripping my necklace, and he knocked me to the floor. I landed on the dog's bowl, which cracked under my back, the pieces cutting into me. I lay there for a moment, dazed, then got to my feet and told him to get out."
He says that William pushed him to fight back, but Harry backed down, and the brothers cooled off before William took his leave. He also shared that he told his therapist about the incident first, and when Meghan noticed the marks on his back, he shared that William "attacked" him. He recounts that he was not angry but sad that it happened.
As for the rest of the memoir, The Guardian describes its overall telling as, "Harry's resentment of being the 'spare' is the unifying theme of his book, through chapters on his childhood, his schooling, his career as a royal and in the British army, his relationship with his parents and brother and his life with Meghan through courtship, wedding, and marriage to their own experience of parenthood."
Prince Harry has sat down for two exclusive interviews ahead of his book release that will air this weekend in both the UK and the US, one with Anderson Cooper on 60 Minutes. Spare is available on all reading platforms on January 10.