12 Queer Romance Novels That Will Get Your Heart Pumping
Toe-curling, good fun awaits!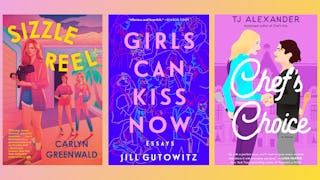 Amazon
We may receive a portion of sales if you purchase a product through a link in this article.
Queer romance continues to dominate BookTok, book lovers' group chats, and bookworms' imaginations everywhere. Whether your favorite trope is forbidden love or your toes curl at the sound of two enemies entering one hotel room, readers seriously can't get enough of queer romance titles, not to mention queer smut — the spice level is off the hot pepper charts!
Reading books written by and about transgender and nonbinary people or with moving storylines that celebrate queer awakenings and love is an amazing way to show your support for LGBTQ+ authors. And there are so many great LGBTQ+ titles and authors out there who do exactly that.
For starters, Scary Mommy Book Club members are smitten by Jen Beagin's Big Swiss, which was a May 2023 pick. Authors TJ Alexander, Alison Cochrun, and Casey McQuiston are beloved in the queer romance world, as are titles such as Honey Girl and Delilah Green Doesn't Care. There are honestly too many to name, but we've compiled a list to help get you started.
Here are some hot picks for queer romance novels we can't wait to devour this Pride Month.
Big Swiss by Jen Beagin
Greta lives in a deteriorating, super old farmhouse in upstate New York that also happens to be infiltrated with bees. She's a bit lost and, not to mention, bored until she takes up a gig transcribing sex therapy sessions for a guy named Om. Greta soon becomes besotted with one of his clients, whom she calls Big Swiss. Then one day at the dog park, she hears a familiar voice — the voice of Big Swiss herself — and Greta's life is forever changed.
Chef's Choice by TJ Alexander
Jean-Pierre, a trans man on the cusp of inheriting a culinary empire, is the answer to Luna O'Shea's problems — the problems being that she's unemployed and unable to make rent. Luckily for her, Jean-Pierre is ungodly wealthy and in need of a fake girlfriend who can sweeten the deal with his grandpa, aka the only person standing in his way of taking over the family dynasty. All they have to do is perfect a cookbook of family recipes. They're the perfect pair if only they knew how to crack an egg...
Kiss Her Once For Me by Alison Cochrun
From the author of The Charm Offensive comes another delicious queer rom-com about a struggling creative who agrees to a fake marriage with her employer only to realize that his sister is the woman she had a magical night with (and fell for) last Christmas Eve. Ellie has spent the last 365 days thinking about Jack and what they could have been, but a future with Jack's brother guarantees her financial security, and a crush on a pretty girl isn't going to pay the bills. Will marrying a man she doesn't love make her happy, though?
Sizzle Reel by Carlyn Greenwald
Luna Roth wants it all: the schmoozy job and to lose her virginity to Hollywood's "it" girl, actress Valeria Sullivan. Having just come out as bisexual, Luna is excited to explore her sexuality. The only problem is she only has experience flirting with boys and has no idea what she's doing. With her queer best friend's help, Luna hatches a plan to land a job on the set of Valeria's directorial debut and woo her into a date — and to her surprise, it's actually working!
Girls Can Kiss Now by Jill Gutowitz
In a brief intermission from the traditional cookie-cutter formula of today's rom-com era is Jill Gutowitz's captivating collection of personal essays that contain laugh-out-loud humor and honest insight into the mainstreaming of lesbian culture. If you're fascinated by the intersection of queerness, relationships, and pop culture in the present day, add Girls Can Kiss Now to your TBR pile.
New Adult by Timothy Janovsky
Described as 13 Going on 30 meets Last Stop, New Adult is a futuristic queer rom-com about a 23-year-old broke comedian who wishes on "magical healing crystals" to become wildly successful. When he wakes up, it's seven years into the future, and he's the next big thing — only none of his friends and family care to relish in his success, including his best friend (who he's also secretly in love with), Drew. From there, Nolan works to undo his wish while simultaneously fighting for Drew's friendship and, if he's lucky, his heart.
I Kissed Shara Wheeler by Casey McQuiston
The month before graduation Shara Wheeler kisses Chloe Green and then disappears, but not before leaving Chloe a cryptic note. Chloe teams up with Shara's football lover and bad boy neighbor, who've also touched lips with Shara and received puzzling notes. An unlikely alliance, the trio compares notes to track down Shara before graduation. The last thing on Chloe's to-list is to beat Shara for valedictorian... and maybe kiss her again.
Old Enough by Hayley Jakobson
Sav Henry's optimism goes out the door when she learns that her childhood best friend is betrothed. Fresh out of a situationship herself (her first queer situationship, to be exact), Sav is not ready to face Izzie's older brother — especially after what happened between them years ago. Then there's Wes from her Gender Studies class, who Sav (try as she may) can't get out of her head. Hayley Jakobson's debut novel explores what it means to find your tribe as a young bisexual woman while also falling in love.
Wild Things by Laura Kay
In this beautiful, heartwarming queer novel, a best friend group ditches their overpriced, tiny city apartments for a crumbling countryside village dubbed Lavender House. Living under one roof will speed up the renovation process, but for El, it also means spending more quality time with her lesbian best friend and secret love interest, Ray. As the house nears completion, El is torn between keeping her friendship with Ray as is or taking the plunge to see if they can be something more.
The Romantic Agenda by Claire Kann
When her best friend unexpectedly announces that he's fallen in love, Joy can't help but nearly break into tears. Though asexual, and having never expressed her real feelings for Malcolm out loud, Joy can't bear to see him marry someone else. A weekend trip makes for a perfect last-ditch effort to show Malcolm he's picked the wrong girl. Then Joy meets Fox, who ironically happens to be the ex of Malcolm's new lover. Revenge has never tasted so sweet.
Delilah Green Doesn't Care by Ashley Herring Blake
Forced to return to her hometown to photograph her estranged stepsister's wedding, Delilah Green unexpectedly befriends Claire Sutherland in the midst of wedding prep. While the pair know of one another, they've never actually taken the time to get to know-know one another until now. They like what they're seeing, and a ruse to break up the bride and groom brings Delilah and Claire even closer.
Honey Girl by Morgan Rogers
A crazy night in Las Vegas ends with Grace Porter drunkenly marrying a woman she doesn't know — like literally, Grace has no clue who her wife is, not even her name. On the brink of a midlife crisis, Grace swaps coasts to live with her wife, Yuki Yamamoto. Life in NYC is effervescent and spontaneous and unlike anything Grace is used to, plus she's actually falling in love with the person she married. But is her life with Yuki the real deal or a bandaid to cover up what's really happening back home in Portland?