Meet Your New Mom Binge: Real Girlfriends In Paris
The new Bravo series follows the lives of six American Expats Living in France, and it's giving real-life Emily in Paris.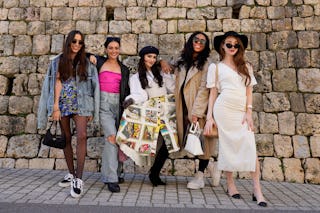 Fred Jagueneau/Bravo
There's something special about watching a fictional romedy because it creates a magic that, let's face it, simply doesn't exist in real American life. Emily In Paris became a streaming favorite for its ability to share the wanderlust of living abroad, the euphoria of a career in fashion, and the search for love in the world's capital of romance. However, Bravo has presented the public with something even rarer than a character who's got it all — they debuted the real thing. So, meet your new mom binge... the show you're going to want to devour tout suite when new episodes drop, but will begrudgingly wait until everyone else in the house is asleep. Say hello to The Real Girlfriends of Paris.
The new Bravo series follows "six bold twentysomething American women" who find solace in each other, have a few "romantic rendezvous," and "embrace all the spontaneity that comes with living in an exciting new city." Think Twenty-Somethings, Austin meets Sex in the City Carrie in Paris. It's like The Real World and (you guessed it) Emily in Paris had a love child. Yes — unicorns do exist!
While the ambiance of Paris certainly gives this show appeal already, it's the cast that really brings the experience to life. With that said, you should get familiar with the lineup of women who not only revel in one too many cheeses but can speak French fluently, too.
You can catch The Real Girlfriends of Paris on Bravo and other participating platforms on Mondays at 9 pm EST.
Don't worry, you won't have to stop at the first episode, there are four already released — you can thank me later.