Salma Hayek Shows Off Her Gray Hairs & Wrinkles In A No-Makeup Selfie
And the star is getting a huge, positive reaction from fans.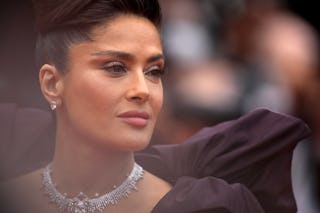 Gareth Cattermole/Getty Images Entertainment/Getty Images
Women everywhere are faced with impossible choices when it comes to aging: society often rejects or erases women when they develop wrinkles or gray hair, but they also criticize any visible signs that women are fighting aging by getting work done or not acting their age. The pressure is especially high for women in Hollywood, who face limited roles and constant criticism that only gets worse and worse over time.
Now, though, several stars have taken a stand against it all by being open and honest about aging. Two recent examples: Sarah Jessica Parker made headlines for embracing her grays, while Christie Brinkley is proudly showing off her gray roots. And now Salma Hayak has shared a powerful make-up free selfie that showcases the beauty of aging — stray grays and wrinkles and all.
The close-up shot shows the 56-year-old Grown Ups actor without a spot of eyeliner or blush on, showcasing a few subtle forehead and eye wrinkles, along with a few grays along her temples. Of course, the shot also highlights Hayek's amazing eyes, iconic face, and dark locks (seriously, who has bone structure like that!?).
"Me waking up and counting how many white hairs and wrinkles have crashed the party this morning," she shared, in both English and Spanish in the caption.
The response was hugely positive, from both fans and other celebrities.
Cindy Crawford, who knows a bit about beauty, wrote, "Beautiful!"
Olivia Wade added some emoji commentary: fire and a heart.
At the same time, fans voiced how appreciative they were for her realness.
"Thank you for sharing! It helps all of to see that even the most beautiful and famous also age," one person wrote.
"You're beautiful no matter how many white hairs or wrinkles you get," another wrote.
"Salma you are a beautiful human being both inside and out and all we see is beauty in any setting."
Hayek is no stranger to being real on Instagram: earlier this week, she shared a casual picture of her in a robe, hair down and with minimal makeup.
And earlier in May, she shared a picture of the morning of the Met Gala, hair in a ponytail, make-up free, and wearing some under-eye masks.
"Morning of the #MetGala: Some work hard, and go through many steps to get red carpet ready... some people just wake up gorgeous," she said, referring to her friend Penelope Cruz.
Earlier this year, she opened up to Glamour about what aging has been like for her, and it was all positive.
"I thought getting older meant I wasn't going to work; I'm working. I thought getting older meant that you're not in love anymore; I'm in love," the Magic Mike star said. "I don't feel that I lost my flexibility or my agility or even my strength. I do have to say that I have found it beautiful, getting older with someone.
Hayek, who married French businessperson Francois-Henri Pinault in 2006 and had daughter Valentina in 2007, also spoke about how her career has remained strong despite what she had been warned about.
"In terms of Hollywood, yeah, it's changing," she added. "I was also told that, as an actress, you kind of stop working around 30. Imagine? I did really feel it at the time, and it's unfair. If I had said instead to myself, 'Don't worry, your best professional moments are going to be in your 50s,' I would have been devastated: 'Oh my God, do I have to wait that long?' But it'll happen."